Famed for its palm-fringed beaches, Bali is the perfect beach holiday destination. But there is more to the island than catching a wave and working on your suntan, as much as we love those. From the cosmopolitan shopping and dining districts of Seminyak to the palaces, temples and terraced rice fields of Ubud, there's much to immerse yourself in. Heading to Bali for a week? Here's the ideal 7-day Bali itinerary for you to make the most of your holiday.
Days 1-4: Beach fun
Seminyak
Bali is, after all, a beach destination. And where else to feel the pulsing beat of Bali's beach clubs than in the heart of it all? Seminyak is the place to be. Indulge in world-class epicurean dining, shopping and legendary sunsets at a laid-back beach bar or stylish beach club. The neighbourhood buzzes with good times. But, when you're ready to relax and put your feet up, there's nothing like having a tranquil, fully-staffed luxury villa to return to. The friendly staff can even organise a soothing foot massage by your private pool. Whether travelling as a family or group of friends, we have a range of luxury villas in Seminyak for you. From romantic traditional-style abodes tucked away in leafy tropical gardens, to sleek modern villas by the beach. There's a perfect villa for every one.
Read on for some suggestions on how to spend four blissed-out days in Seminyak.
Relax at a Seminyak beach club
Bali does beach clubs brilliantly, and Seminyak has some fabulous venues to choose from, with feel-good vibes guaranteed. Potato Head is a great place to spend an afternoon chilling on a daybed by the pool. Expect spectacular ocean views, sublime cocktails and a cool soundtrack. It's also kid-friendly, with a baby pool, a shallow area in the infinity pool, and a huge lawn to play on. Seminyak's original beach club, Ku De Ta, still makes a sophisticated yet laid-back sunset spot with exceptional cuisine and cocktails. Meanwhile, Cocoon Day Club has just reopened. It has kicked back into gear with its famous sunset sessions and splash pool parties.
Catch a Bali sunset
Speaking of sunsets, they are legendary here in Bali. If beach clubs aren't your thing, you can enjoy nature's dazzling nightly display from a bean bag on the sand at one of the casual beach bars strung along Seminyak Beach. La Plancha with its colourful temple parasols is always fun, but there are plenty of others to choose from, many with live music at sunset. Or simply a walk along the sand, while the sun goes down, is enough to fill your soul.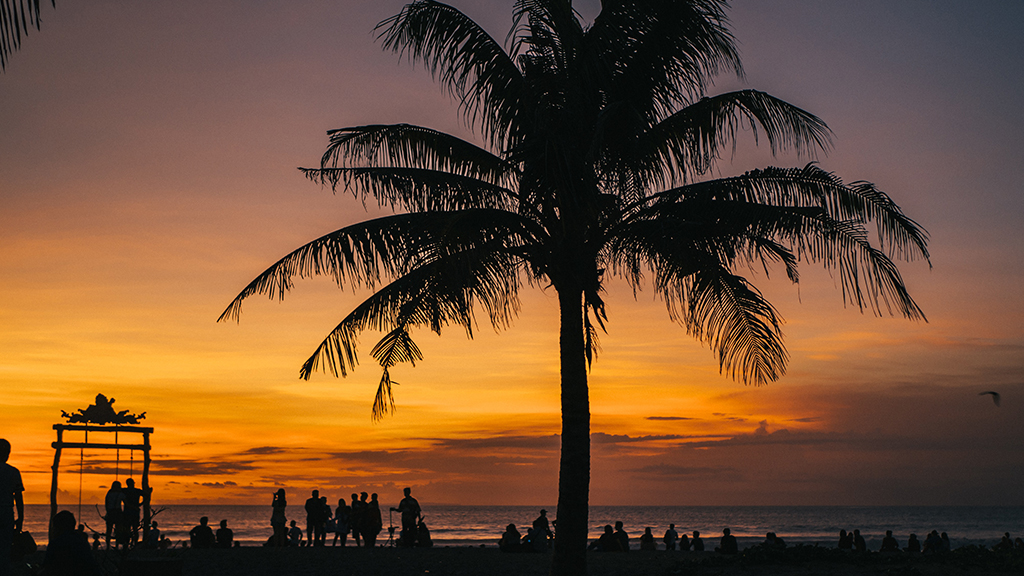 Shop till you drop
Jalan Raya Seminyak and Jalan Oberoi are both brimming with boutiques by renowned Bali-based and international designers. You will also find eclectic art stores, sublime galleries, trendy surf shops and gorgeous homewares. Make sure to check out Biasa ArtSpace, a concept store showcasing contemporary art alongside its stylish clothing line. For a modern shopping mall experience try Seminyak Village. Meanwhile, Beachwalk in nearby Kuta is a leafy, beautifully designed beachfront mall. It is home to fashionable international outlets and top brands.
Discover dining in Seminyak
Seminyak has a dynamic and eclectic dining scene. New restaurants to try include Bakers Bistro which serves a fabulous brunch, and Flying Squirrel with its bespoke sushi and sashimi platters. In the mood for some Mediterranean? Amici serves up sophisticated Italian fare by Michelin-starred chef, Enrico Bartolini. La Lucciola is an institution with beach views and old-Bali vibes. And Mama San is an absolute favourite for Asian flavours. Special occasions warrant a reservation at Sardine, set amidst a picturesque rice field. For delicious modern Indonesian cuisine, make sure to try Temple by Ginger Moon in neighbouring Kuta. Its lush tropical setting with a breathtaking temple garden makes it a great photo spot. Family-friendly, it also has a small people's menu and colouring books for the kids.
Learn to Surf
Always wanted to enjoy the thrill of catching a wave? Then the surf schools of Seminyak have all the answers. Double Six Beach is home to several schools, including Surf School Bali. They cater to all levels, with options for private lessons, kids' lessons and family packages. Surf lessons with Bali Green Surf School are also good fun, besides supporting a worthy cause. The school donates part of its income to local Balinese orphanages. And offers regular surf lessons for orphans. Win-win for all.
Day 4-7: Hillside
Ubud
For a completely different experience than Beach Bali, head to Ubud for the second half of your trip. Set in the foothills of Bali's hinterland and surrounded by verdant rice fields and lush valleys carpeted in the rainforest, Ubud is the arts and cultural centre of the island. There is much to see and experience around this atmospheric town, from traditional palaces to evocative temples and galleries. And when you need a little time out, it's easy to retreat to one of our serene fully staffed Ubud pool villas, with stunning rice field views and a private driver on hand for day trips around the island.
Temples and palaces
The ornate Saraswati Temple is dedicated to the Goddess of learning, literature and the arts. It is right in the centre of town and will take your breath away with its setting amidst myriad lotus flowers. Next door is the Royal Palace. The front section is open to the public and its elaborate stage makes a wonderful setting for nightly dance performances accompanied by percussive gamelan orchestras.
Evenings in Ubud come alive with classic Balinese dance performances at various locations – many of the dances portray dramatic tales from Hindu mythology. The Kecak, or 'trance fire dance' is one of the most popular – a thrilling visual spectacle accompanied by flames and tiki torches. The Elite Concierge will be happy to make a reservation for you.
Celebrate the arts in Ubud
Walking the streets of Ubud is a little like wandering through an open-air gallery, with beautiful traditional architecture, temples and shrines everywhere you look. The town is also home to some intriguing galleries. Arma Museum and Neka Art Museum both have an extraordinary collection of Balinese and Indonesian art. Be sure to check out Threads of Life where textiles and culture weave a beautiful tale. And for something a little different, Blanco Renaissance Museum showcases the works of the late maestro Antonio Blanco, a visionary Spanish artist who made Ubud his home and is known for his unique style.
Visit Sacred Monkey Forest
No visit to Ubud is complete without a stroll through this lush tropical forest and 14th-century temple complex, home to grey long-tailed macaques. There are hundreds of them, at play in the forest canopy and amidst the moss-covered stone statues. The evocative jungle-like setting makes the forest popular with day trippers, so plan a walk early in the morning or late in the afternoon to avoid the crowds. And don't take any food in with you, as the monkeys here can be a little cheeky!
Scenic hikes
For a gentle scenic hike, the Campuhan Ridge walk starts on the edge of town and boasts lovely vistas of tropical valleys and coconut groves. If you enjoy bike riding, Bali Eco Cycling runs downhill tours that begin in the highlands of Kintamani. Then it's downhill all the way as you cycle through cacao and coffee plantations, passing papaya groves and emerald green rice paddies. Tegalalang Rice Terrace – a UNESCO world heritage site, is just a short drive from Ubud. Meanwhile, animal lovers can head to award-winning Mason Elephant Park in Taro to meet the herd of rescued Sumatran elephants. There are also waterfalls to see, rapids to raft over and volcanos to visit. For a truly memorable experience, and a bird's eye view of the island, our concierge can book you a helicopter ride with Balicopter.
Traditional spa experience
Also known as the holistic heart of Bali, Ubud has a strong healing tradition. It is the perfect place to treat yourself to a massage or spa treatment. When you stay at an elite haven, we can bring the spa to you. Enjoy treatments like a hot stone massage, reflexology or Balinese Boreh – a massage and scrub made from cinnamon, cloves, ginger, and other spices, in the privacy of your villa. Many of Ubud's day spas also offer decadent packages. For a 360-degree spa experience, try Taksu which has a huge range of treatments, sauna, flower baths, yoga classes and a healthy vegetarian cafe in the gardens.
Cooking session
If you enjoy Indonesian food and are keen to learn how to prepare some traditional dishes, the chef at your villa will be happy to give you a private cooking lesson. There are also several cooking schools in town, the most famous being Casa Luna Cooking School. Learn about the exotic herbs and spices used in ceremonial and everyday dishes and prepare a lavish Balinese feast for lunch.
Need further inspiration? The Elite concierge will be happy to make suggestions and tailor a 7-day Bali itinerary for you to ensure a seamless, unforgettable holiday.