Breathtaking 360-degree panoramas of Koh Samui's spectacular coastline are aplenty at Panacea Retreat, one of Southeast Asia's most luxurious villa complexes. Get ready to have your notions of a luxury villa redefined. Panacea Retreat is the best of the best, and you will be hard-pressed to find anything like it anywhere in the world.
Praana Residence is the 'jewel in the crown', a six-bedroom palace with an entire floor dedicated to pleasure pursuits, health and fitness. Equally sublime for family or group holidays, or special celebrations, the other villas in the compound – Villas Avasara and Atulya, offer five luxurious bedrooms and Villas Kalya and Purana, four bedrooms. However, each villa maintains the level of excellence and luxury, that Praana sets the gold standard for.
We sat down with estate Chef Sommai, who has worked all over the globe, for some insight into what it takes to cook for the distinguished guests at splendid Panacea.
Elite Havens: Can you tell us a bit about yourself?
Chef Sommai: My name is Sommai Phetsukhum. I'm 52 years old and I've been working in the kitchen for 34 years. Over the years, I've worked in Phuket, Koh Samui, Dubai, United Arab Emirates and Turkey.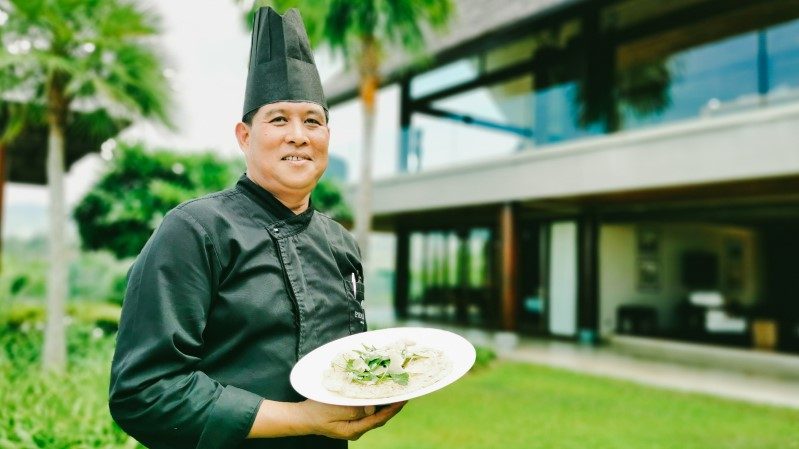 Elite Havens: What kind of food do you specialise in?
Chef Sommai: I can make Western food, especially dishes with European influences. I enjoy cooking Italian dishes and make a mean fresh pasta. I'm also well trained in both Chinese and Japanese cuisines, so if the guests ask for that, I can prepare a delectable feast. But of course, my speciality is Thai food. I have even been recognised by the government (the Department of Labor) with a certificate honouring excellence in 'Thai Food for the World'.
Elite Havens: Interesting. So, you are familiar with a lot of cuisines. What kind of food do your guests usually ask for?
Chef Sommai: More often than not, they request for Thai food. So, today I have prepared some of our most popular dishes.
Elite Havens: What did you prepare for us today?
Chef Sommai: Today, I have made Pad Thai, Green Papaya Salad, a very popular Thai salad, as well as Ayam Salad, a Thai soup called Tom Kha Gai (Chicken Coconut Milk Soup), and coconut cake for dessert.
Elite Havens: It looks delicious!
Chef Sommai: Many guests enjoy this soup. We have another traditional Thai soup called Tom Yum, which is sour and spicy. Some guests like Tom Yum, but most prefer Tom Kha because it is not as spicy, the coconut milk makes it mild and flavourful. We also have a Chicken Pilaf, which is a signature dish from the Panacea region and of course, we have Pad Thai that we made with fresh tamarind juice.
Elite Havens: Thai food is very phat do you think makes Thai food so special?
Chef Sommai: I think Thai food is unique because it combines many flavours in one dish- salty, sweet, spicy, and sour.
Elite Havens: What do you think defines a good chef?
Chef Sommai: I think you have to put in a lot of care, to make sure the food is delicious and presented beautifully. And you have to know your recipes and techniques well, so the quality and taste of your food can be consistent. I always make sure I keep learning new things. Never be complacent. And when I see my guests are happy- when I see them smile, I smile.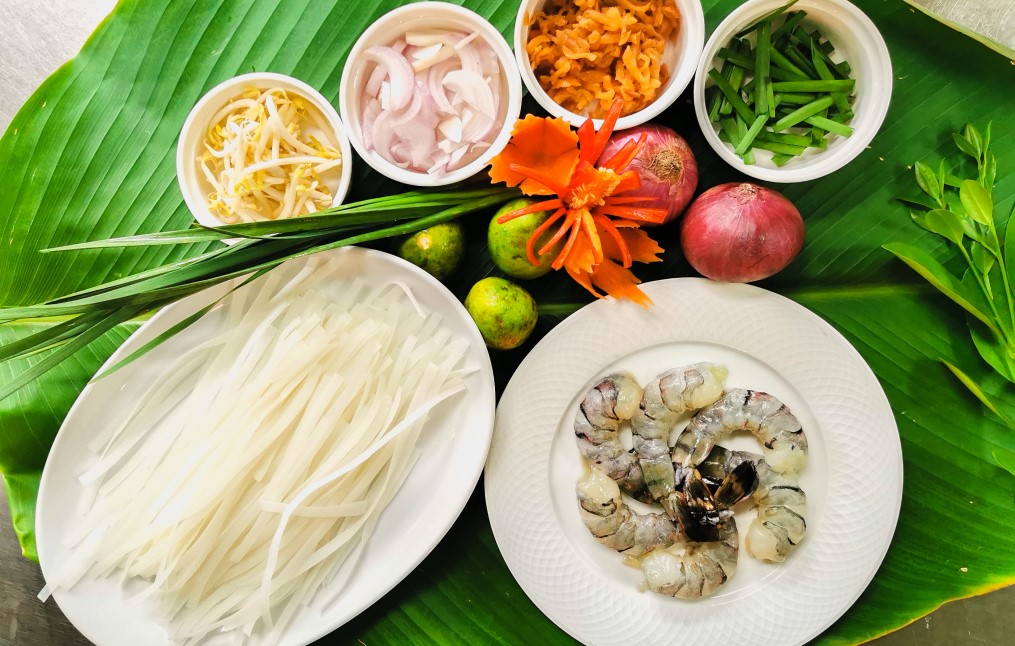 Chef Sommai's Phad Thai Goong Sod
Ingredients:
Prawn 350 g
Rice noodle 100 g
Eggs 2 eggs
Bean sprouts 50 g
Bean curd 20 g
Chive 10 g
Garlic chopped 10 g
Onion chopped 10 g
Cooking oil 2 tbsp
Tamarind juice 100 g
Dried red pepper 100 g
Palm sugar 2 tbsp
Soy sauce 3 tbsp
Instructions:
Peel the prawn's shell and cut open the back of each prawn to remove the veins.
Dice bean curd and cut chive in 1 inch. Stir-fry prawn in medium heat adds bean curd until cooked, take it out from the pan to rest.
Heat cooking oil in a wok add chopped garlic and onion stir-fry in medium heat until fragrant, add prawns and stir fry until cooked thoroughly and crack the egg into the wok. Stir to cook and break up the egg. When the egg is nearly cooked, add the rice noodle (soak in the water for 5 minutes) sauce mixture. Stir fry until all ingredients are mixed well and the noodle is wilted, and then add chive, fried bean curd and bean sprouts stir fry for 2-3 minutes.
Place in a plate and decorate with bean sprout, chive and a piece of lime on the side of the dish.
Hold dreamy weddings, tranquil retreats and other events for large groups at the stunning Panacea Retreat. Taste the best Thai cuisine in Koh Samui at Praana Residence.