Four stand-alone pavilions hug the edge of a cliff, standing tall against a stunning backdrop of the emerald-coloured Arabian Sea. Named after a Thai traditional ceremonial headdress, it is apt that Villa Chada's interiors are adorned with Thai artefacts and curios, while the outdoors boast water features amidst lush tropical gardens. Stealing the show, 16-metre freeform pool snakes around rocks and the large deck which is dotted with sun loungers. There's plenty of space in its six en-suite bedrooms, some with astounding sea views, and others framing verdant gardens. The warm villa staff and an exceptional Villa Manager ensure that your every need is met.
Grand, yet surprisingly cosy, the villa's enchanting rooms are distributed across pavilions, offering privacy and luxury. A haven ideal for relaxing, Villa Chada also has a path that leads down to a private beach where spectacular sunsets abound. But if you don't want to make the effort, the master suite's wraparound terrace offers the same enviable sunset hues, best enjoyed with a chilled beverage in hand.
The food at Villa Chada is every bit as exceptional as the residence itself. Here's an excerpt from our talk with Chef Pu, who loves crafting delicious meals for the villa's guests.
Elite Havens: What is your cooking background?
Chef Pu: Prior to working here, I was the in-villa chef at One Waterfall Bay. I've also worked part-time at Restaurant Blue-Manow for many years.
Elite Havens: How did you learn how to cook?
Chef Pu: I gained valuable experience when I was a helper. The owner of the villa hired a chef to train me and my colleagues in the art of Thai and western cuisines. I consider myself very lucky to be given this opportunity.
Elite Havens: What qualities do you think to mark a good chef?
Chef Pu: Paying attention to your cooking and loving what you do are the two most important qualities. Cleanliness is at the heart of cooking and so is punctuality – food must always be served on time and there shouldn't be too much of a gap between courses.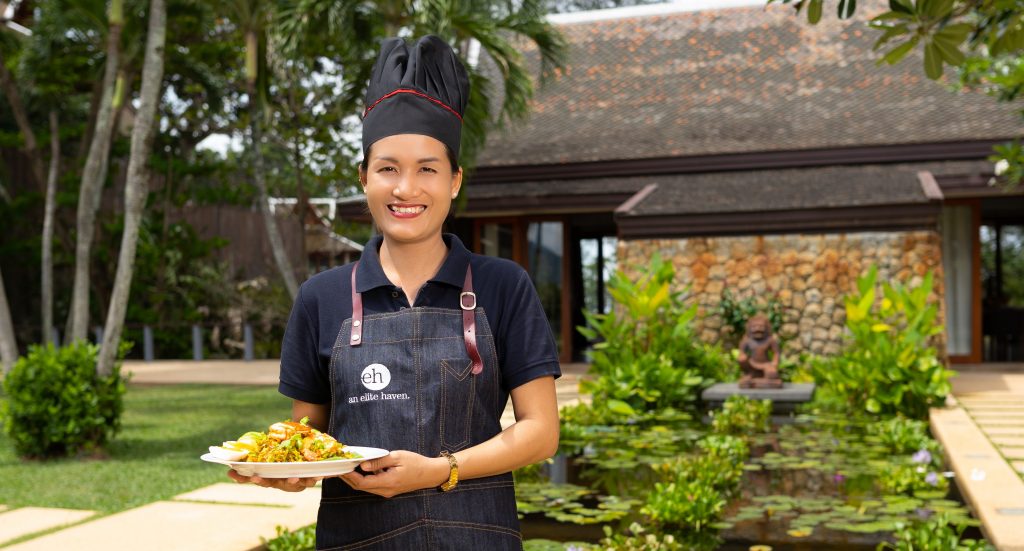 Elite Havens: What did you cook for us today?
Chef Pu: Wing Beans Salad is on the menu today.
Elite Havens: Why did you choose to make this dish for us?
Chef Pu: It is originally Thai, yet not many travellers know about it. It is my endeavour to promote this dish so that many more people can try it.
Elite Havens: Can you tell us how your cooking adds to the villa experience?
Chef Pu: Food is a very important part of any holiday. When staying at a luxury villa like Chada, presentation and delightful flavours play a primary role. They show the guests how much we care for them and how we pay attention to details.
Elite Havens: What should guests expect from you when you cook for them?
Chef Pu: They should expect fresh ingredients, and food altered according to their preferences.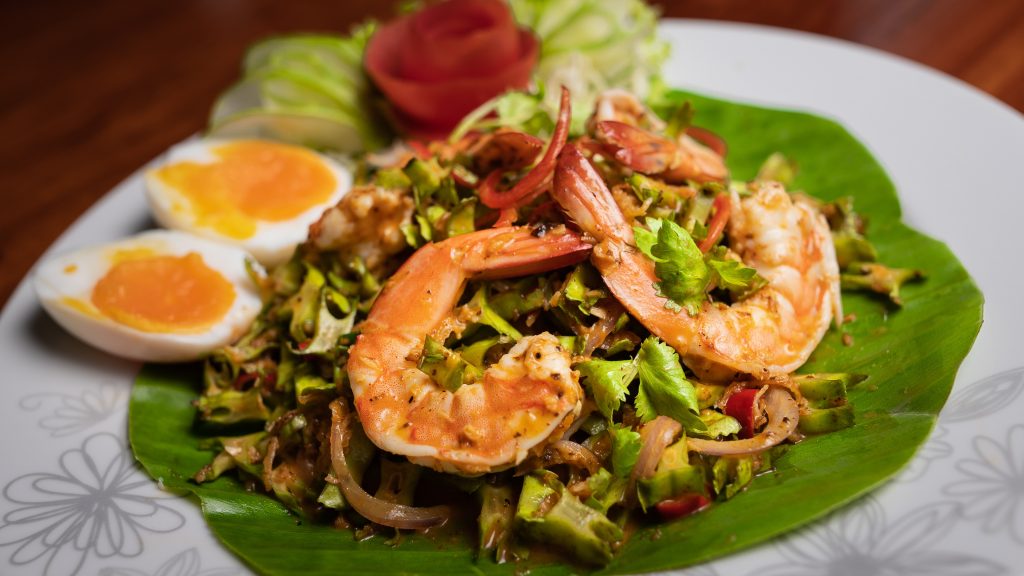 Chef Pu's Wing Beans Salad
Ingredients:
500 g Wing beans (sliced)
5-6 Prawns
2 Boiled eggs
2 tbsp Lime
2 tbsp Tamarind sauce
50 ml Coconut milk
1 Red onion (sliced)
2-3 Fresh chillis (sliced)
1 tbsp Fish sauce
30 g Fried red onion and garlic
20 g Fried crunchy coconut
1 tbsp Sugar
Instructions:
Boil wing beans for a couple of minutes and then put into ice water to retain their green colour.
Mix lime, fresh chilli slices, fish sauce, tamarind sauce, chilli paste and sugar together in a bowl.
Put the wing beans into the same bowl, and then add the coconut milk, prawns and red onion slices.
Garnish with fried crunchy coconut. Serve immediately.
Treat yourself to authentic Thai food prepared by our professional chef. Learn more about Villa Chada here.