Every chef in Elite Havens has his or her signature creations – the ones guests ask for again and again. This time, the chef at Villa Issi shares two of his gourmet dishes with us. Try these recipes at home and get ready to wow your guests at future dinner parties. The secret recipes that he's unveiling are Ayam Pelalah, a shredded organic chicken breast with homemade tomato sauce, and Tuna Sambal Matah, a pan-seared tuna with shallot, garlic, lemongrass sambal and fresh mango salad. Just the thinking of them makes our stomach grumbles!

AYAM PELALAH
Ingredients:
150gr chicken breast
25gr bean sprout
5gr romaine lettuce
10gr tomatoes, diced
10gr red chillies, diced
1 tbsp olive oil
5gr garlic, diced
5gr shallot, diced
Salt & pepper
2 – 3 star fruit slices (optional)
Directions:
Grill chicken breast for 5 -6 minutes per side.
Transfer chicken breast to a bowl, allow to cool and shred the chicken meat with 2 forks.
To make tomato sauce, heat olive oil in a pan.
Sauté diced tomatoes, garlic, red chillies and shallots.
Transfer to a blender and puree until smooth.
Mix shredded chicken breast and bean sprouts with tomato sauce.
Place romaine lettuce on top of a plate, serve the chicken and garnish with star fruit (if using).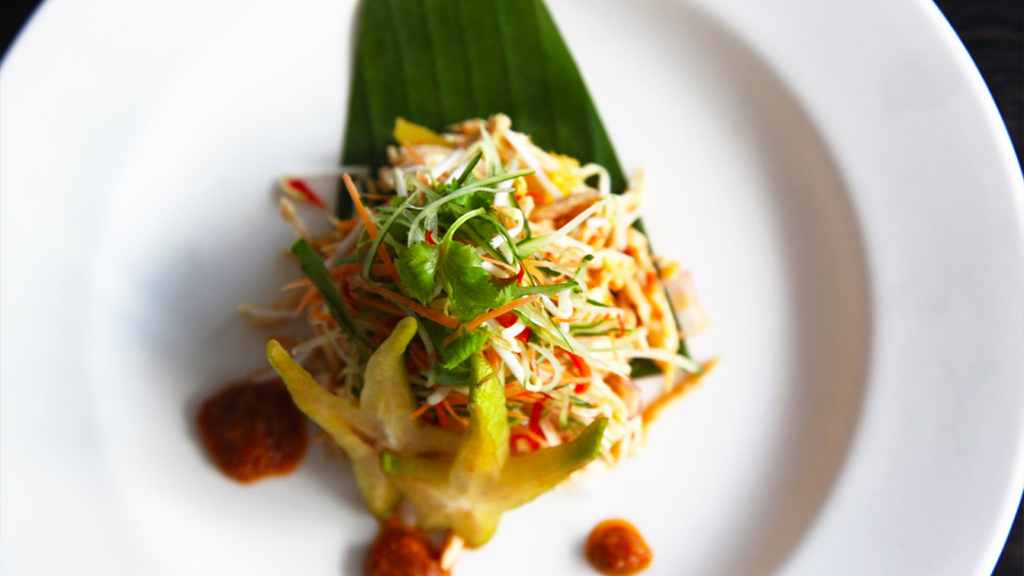 TUNA SAMBAL MATAH
Ingredients:
200gr tuna loin
100gr young mango, cut into long thin strips
Salt, freshly ground black pepper and paprika powder
Sweet chilli dressing
50gr sautéed asparagus
Steamed rice wrapped in coconut leaves (optional)
For the sambal:
2 shallots, chopped
2 cloves of garlic, chopped
2 lemongrass stems, finely chopped
A pinch of salt
2 tbsp. vegetable oil
Directions:
Season tuna with salt, black pepper, and paprika powder.
Mix the sliced young mango with sweet chilli dressing.
Sear tuna loin on a pan about 5-8 minutes and cut into 4 slices.
To make sambal, mix all the ingredients for sambal in a bowl.
Place sliced tuna on top of sautéed asparagus and garnish with sambal.
Serve with mango salad and steamed rice wrapped in coconut leaves (if using).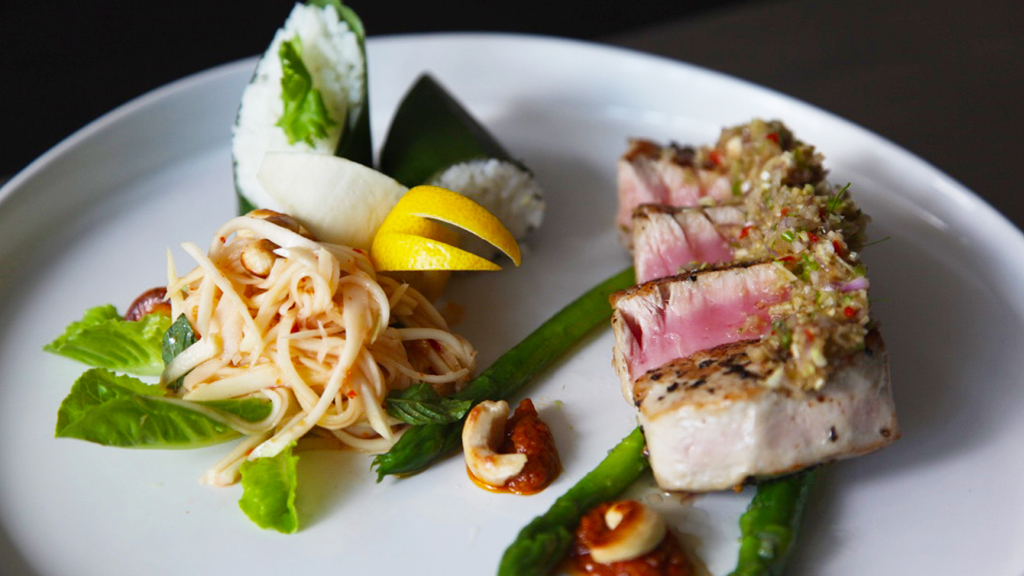 They both look delicious, don't they? The spiciness in the Ayam Pelalah (which literally means spiced chicken) is in the perfect amount, and the sweet and sour from the young mango in the Tuna Sambal Matah are so refreshing, making up your hot tongue from the first dish. What's next? To Ku De Ta if we may suggest?