"One of the very nicest things about life is the way we must regularly stop whatever it is we are doing and devote our attention to eating." – Luciano Pavarotti
In 2017, Phuket was crowned a City of Gastronomy by UNESCO and anyone who has ever experienced real Thai food will agree that it's arguably one of the best foods in the world. A balance between sweet, spicy, bitter, salty and sour is the main reason why Thai food is so special. But in internationally renowned Phuket, you find there's actually much more than Thai cuisine to tantalize your taste buds.
Having lived and worked in Phuket for the past 11 years, I thought I had experienced most of southern Thai food, as well as some of the dishes from the North. In my culinary journey, (which does make me sound like a foodie millennial) have tried chicken feet and chicken heart, fried silkworms, raw prawns in fish sauce, chilli and lime (this is one of my favourites to order) and a bitter-tasting green vegetable thing that to this day I have no idea what it was, although it was disgusting.
A Chef's Tour
There are of course some fabulous cooking schools in Phuket that will teach you how to cook an authentic Pad Thai or a Green Curry, but isn't it better to get out of the TV kitchen and hit the streets? I wanted to eat and drink with the locals. So, along with my friend we chose to go on A Chef's Tour, which is a boutique tour that gives you a true flavour of food in Phuket and as you will find out, this tour gives you a whole lot more.
WHAT'S INCLUDED:
4-hour guided walking tour of Phuket Old Town
Tastings at hidden "street eats" and local restaurants
History and culture lesson on southern Thai cuisine
Great photo opportunities
Drinking water and Thai refreshments
Private fully-licensed (foodie) guide
On the steps of one of Phuket Town's largest indoor markets, we met Khun Pema, who like most tour guides has a personality and charm which borders on crazy (crazy-good). She explained to us that this is not just a tour about amazing Thai food, but a food journey, indulging some fabulous food from an array of different cultures and backgrounds.
The tour started with a walk through the old town of Phuket with Khun Pema explaining how the Chinese miners first sailed into Phuket Town and brought their culture, religion and of course food. Strangely the first stop of our tour was not at a restaurant but at Phuket's Town oldest Chinese temple. The vibrant colours popped out from the slightly grey sky and Khun Pema explained more about the history and culture of Chinese temples. All this we learned was just a ruse to get us hungry for the first restaurant stop on our tour which was just around the corner from the temple.
In a small and clean rather modern little restaurant, we were about to indulge on our first new food experience, and what better way to start than one of the most diverse foods used in Asian culture, rice? And what makes rice even better? Making it sticky.
We were given two little parcels of sticky rice mixed with a mixture of spices and flavours and then hand-wrapped in banana leaves and steamed. Khun Pema explained the history behind them and how they are all made by hand at the restaurant, and of course, we got to try them. Now although they were good, the sauce was the winner for me with the balance of the sweet, spicy and salty flavours made the sauce to die for.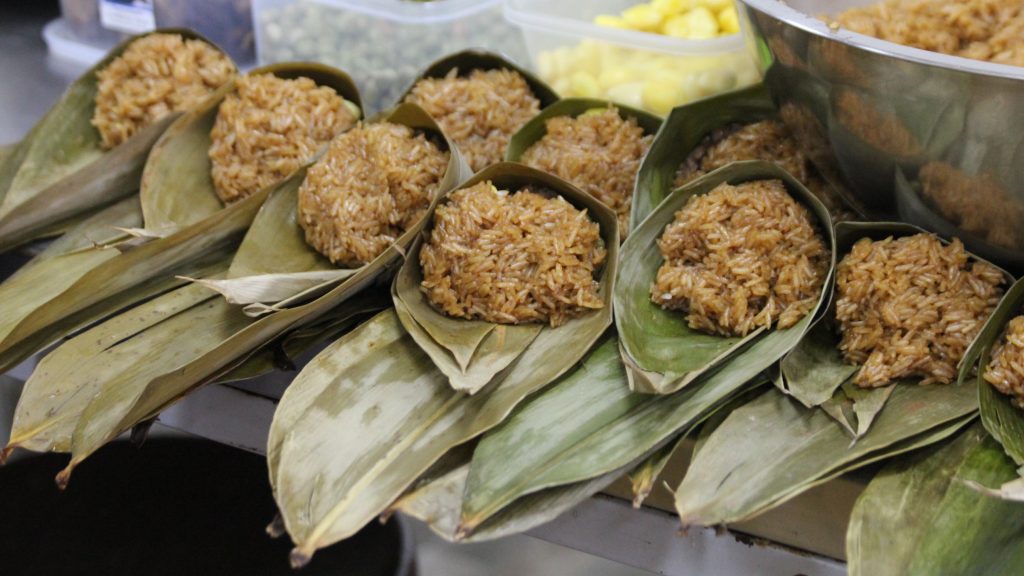 Off to the next restaurant. All along the way Khun Pema gave us facts and history and answered every question we threw at her. Thailand has a huge Burmese community, many of whom are working in the construction industry, which I knew.
What I didn't know that hidden away behind the large indoor market where we had met Khun Pema was a tiny little Burmese tea shop. In front, is a wood fire oven where a man expertly kneads the dough before skillfully sticking it to the side of the brick oven.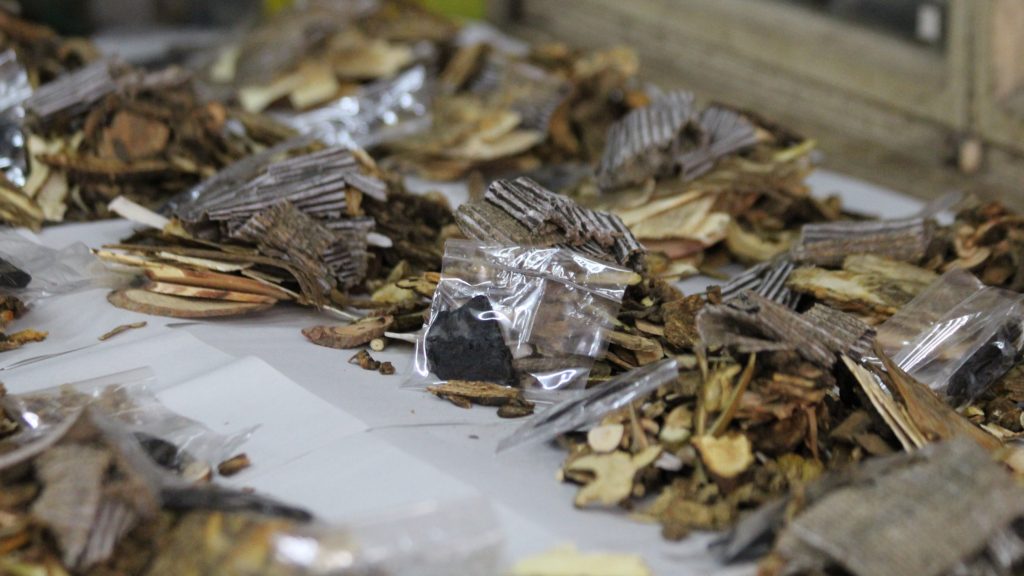 Sat on tiny stalls and low tables, which reminded me of my children's preschool, the Burmese lamb curry came and was to die for and even better when you can mop it up with the hot homemade naan bread. We sat drinking sweet chai, meeting the locals and hearing stories about Phuket.
In no particular rush, Khun Pema said it was time to walk to the next experience. The walks in-between the restaurants were not far and offered two things, firstly it meant that you had time to digest and build up an appetite for the next offering and secondly it was a time to learn more about the beautiful Phuket Town.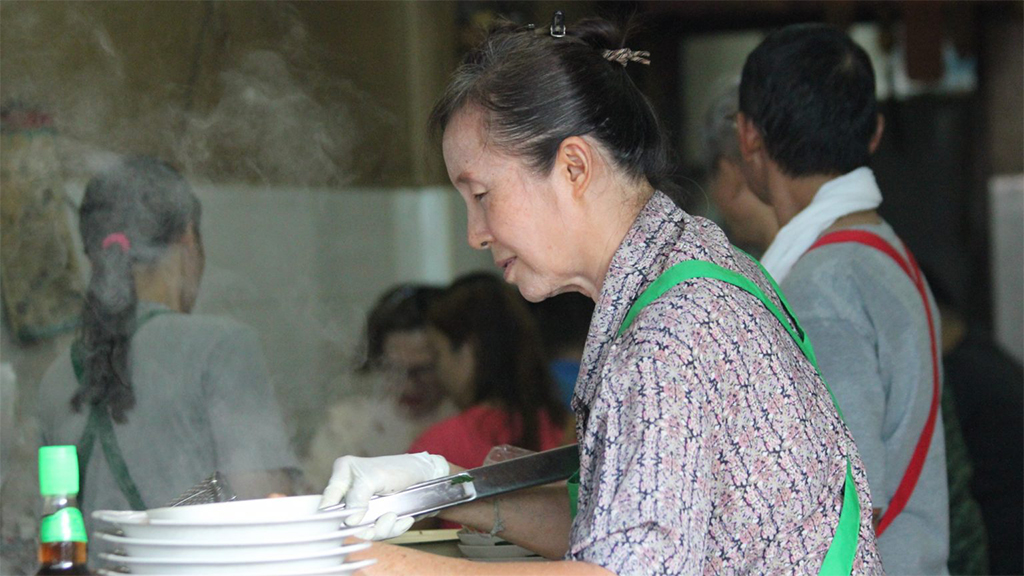 Next, it was time to learn about another huge community in Southern Thailand, it was time for a classic massaman curry from the family-run Muslim restaurant. The curry was creamy and tasty and the buttery homemade roti once again was used to soak up the flavorful curry. This restaurant, we were told, had been run by the same family for decades and three generations of the family currently all worked there. This gave the restaurant a rather homely feel, which is a feeling that many of these family-run mom and pop restaurants give you.
Once again, time to move on. Walking past all the food carts and stalls along the beautiful buildings of Phuket Town, you can see that Thais take their food seriously and there is something for everyone. Our next stop was full of people patiently waiting to get their favourite bowl of noddles. There is a big debate with locals and long-term residences on where the best bowl of noodles comes from.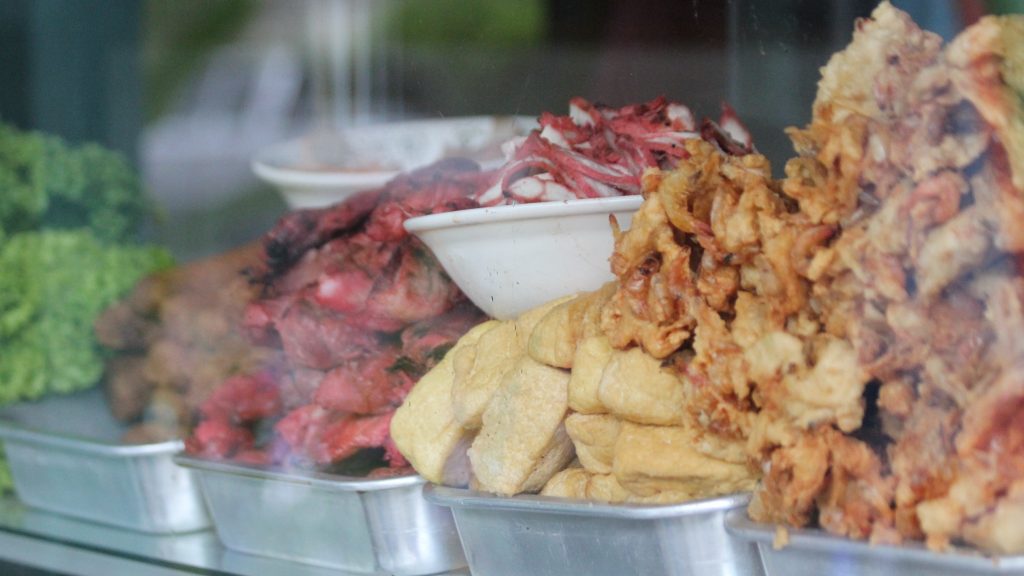 If there is a queue to get in, then the food must be good.
The noodle shop that Khun Pema took us is known to many locals as one of the best. Two sisters have been running it for over 30 years and all their noddles are handmade. People queue out the door and down the street, even in the rain, to get a steaming bowl of homemade noddles with an array of different flavours and textures such as homemade crispy wontons and fish balls.
As we were sitting down eating, or some might say *slurping* the noddles, the Heavens opened up and we were treated to one of May's showers. Watching the rainfall on the coloured rooftops of the beautiful Sino Portuguese buildings while enjoying a hot steaming bowl of homemade noddles – listing to stories and history of Phuket Town and the family history from the noodle shop – was just wonderful.
The rain eased off after 20 minutes or so as it always does this time of year and it was time to move on again. We weaved our way through the back streets meeting more locals and admiring some of Phuket Town's rather beautiful street art.
Khun Pema took us to the biggest vegetable market in Phuket Town where we found all sorts of fruits and vegetables, some we knew and some we had no idea what they were or what to do with them, but of course, Khun Pema is on hand to explain everything.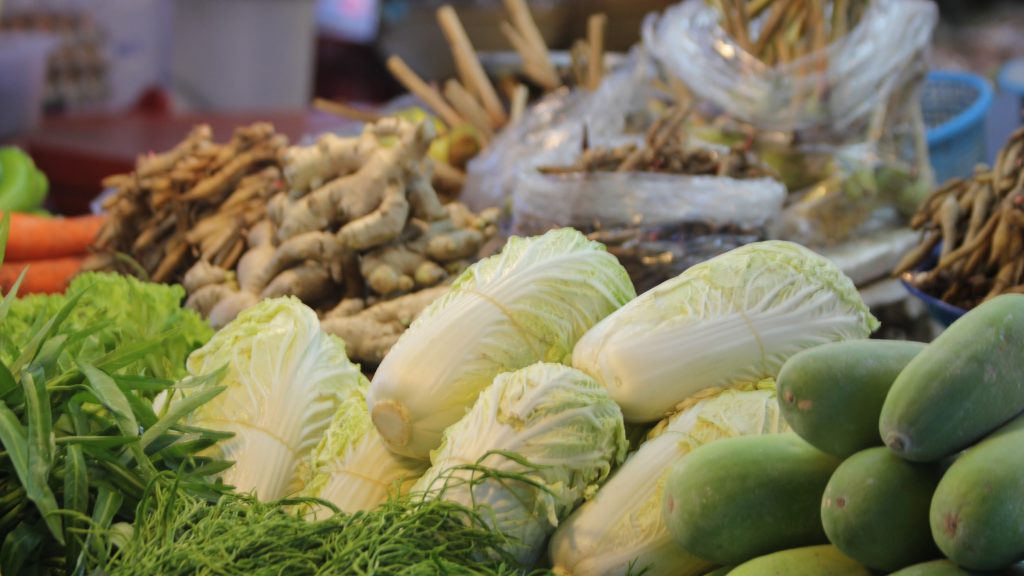 As the tour comes to the end it finishes as every meal should with some sweet treats, including fried doughnut balls, sticky rice with mango and the classic banana roti. That is of course if you have room for more food.
A Chef's Tour is not only a wonderful food experience learning about the different food cultures of Phuket. For us, it was also a great way to learn about the history of Phuket Town.
This beautiful city with its Sino-Portuguese buildings, little boutique shops and cafes, is also a melting pot of different cultures and food flavours. Thai, Malay, Burmese and Chinese cuisines have all made their mark on the culinary scene. This hidden gem of Phuket is something that many tourists don't experience, simply not on their list of things to do. Maybe that's due to the beaches being so stunningly beautiful, and Phuket having some of the best yachting in Asia, fair enough.
If you are coming to Phuket, then a trip to the old town centre is a must, and missing it is regrettable. There will be no regrets however about signing up to let A Chef's Tour to guide the way through Old Phuket Town.
We opened with a quote and we'll close with one too. Stealing some words from the official website of A Chef's Tour feels like the right place to end:

"Trust us, you're not going to try food like this anywhere else on Phuket and while it's tempting to be a beach bum, you'd be one sandwich short of a picnic not to join Pema's movable feast."
Explore and discover the many gastronomic finds in Phuket. Get a taste of the best of this tropical island when you holiday at one of our luxury villas in Phuket.