Koh Samui Reopens for International Tourism
Missing the laidback island life on Koh Samui? Yearning to rediscover pristine beaches, tropical greenery and incredible marine life? Your wait is over – it's time to travel again! Under the Samui Plus program, the Thai Government and Tourism Authority of Thailand (TAT) now allow fully vaccinated international tourists to travel to Koh Samui, Koh Phangan and Koh Tao under certain conditions.
Enjoy a Koh Samui holiday filled with lazy days dosing in a hammock, evening walks along white sand beaches, and feasting on delicious local specialities and world-class cuisine. Closed to international tourism for almost a year, Koh Samui is at its pristine best and waiting to welcome you back with open arms. Stay at an elite haven and be assured of the highest standards of sanitation. Strict hygiene protocols are being followed in our villas, with staff being vaccinated on priority and always masked on duty. We are eagerly awaiting your arrival.
Thinking of travelling to Samui? Here are some things you should know. Do keep in mind that the Samui Plus program is subject to change as the situation develops.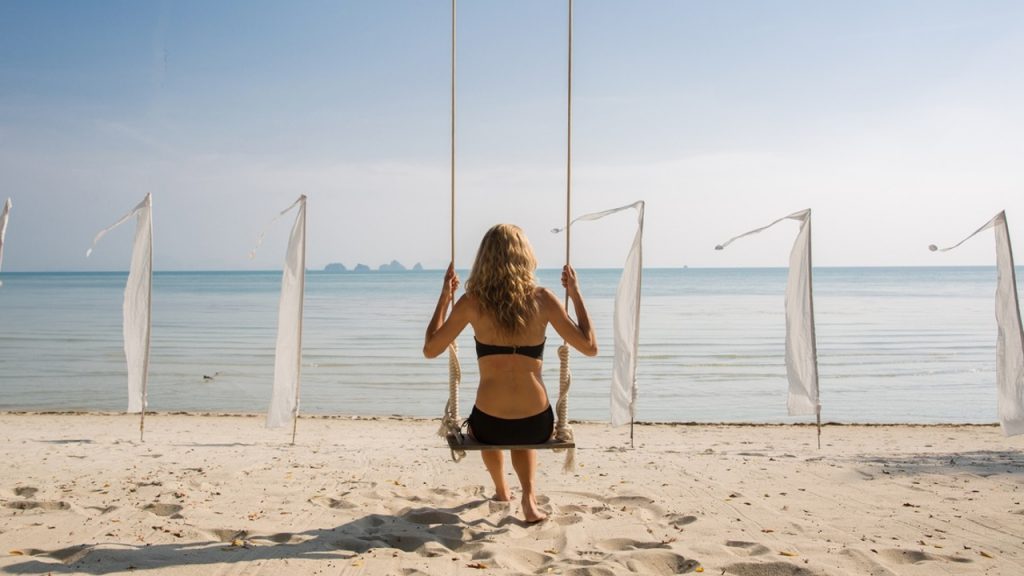 Where to stay
Fully vaccinated travellers from the approved list of low and medium-risk countries are now welcome to travel to Samui and start exploring it as early as Day 4. They must stay in Samui for at least 14 days, after which they are free to travel throughout Thailand.
Visitors must stay at a Samui Extra Plus establishment for the first seven nights, after which they can choose to continue staying in the same place or move to SHA+ accommodation for the next seven nights. Elite Havens offers you an enviable range of approved accommodation so you can holiday amidst splendour and safety.
Indulge in peaceful luxury that is both private and safe, while enjoying enough space to spread out and relax before heading off to explore the rest of the Kingdom.
Documentation
Make sure you have the following documentation in English before you travel to Koh Samui:
Passport with at least 6 months validity
Have been in an approved country for the past 21 days
Proof of being fully vaccinated with a vaccine approved by Thailand's Ministry of Public Health (MoPH) or the World Health Organisation (WHO)
Confirmed return air tickets
Have booked and paid for accommodation and required RT-PCR test/s at a Samui Extra Plus property for the first seven days and SHA+ property for the next seven
Medical insurance with Covid-19 coverage of at least US$100,000
Have tested negative for Covid-19 no longer than 72 hours before travel
Protocols and testing
All vaccinated travellers will be able to partake in activities in Samui, but must strictly adhere to standard protocols, colloquially called the DMHTTA precautions: D – Distancing, M – Mask wearing, H – Handwashing, T – Temperature check, T – Testing for Covid-19, and A – alert application.
Visitors will be tested on arrival at the airport, and then again on Day 6 or 7 and Day 12 or 13. If any of these tests come back positive, they will be transferred to the hospital. If the RT-PCR test is negative, you are free to roam around Samui as follows:
Day 1-3: Can freely roam within your private villa
Day 4-7: Can travel within designated routes and on tour programmes on Koh Samui
Day 8-14: Can explore Koh Samui, Koh Phangan and Koh Tao
Day 15: If the last test on Day 12-13 is negative, can go anywhere in Thailand
Vaccination requirements under the Samui Plus program
Travellers coming to Koh Samui must come from a country or territory in the approved list and must have resided there for at least 21 days before departure. The only exception is for a traveller with Thai residence returning from a country in the approved list. Vaccination requirements to enter Koh Samui are as follows:
All arriving travellers must have been fully vaccinated with a vaccine approved by Thailand's Ministry of Public Health (MoPH) or the World Health Organization (WHO), at least 14 days before their trip and furnish a vaccination certificate as proof.
If a traveller is considered to be at high Covid-19 risk due to proximity to an infected person during the trip or when in Thailand, that traveller will be placed under the medical protocol designated by MoPH.
Children under 18 are not required to be vaccinated if they are travelling to Koh Samui with fully vaccinated parents or guardians.
All travellers, including children, must have received and be able to provide proof of a negative RT-PCR Covid-19 test taken within 72 hours of travel to Koh Samui.
A medical insurance plan with Covid-19 treatment coverage of at least USD100,000 is required for each traveller.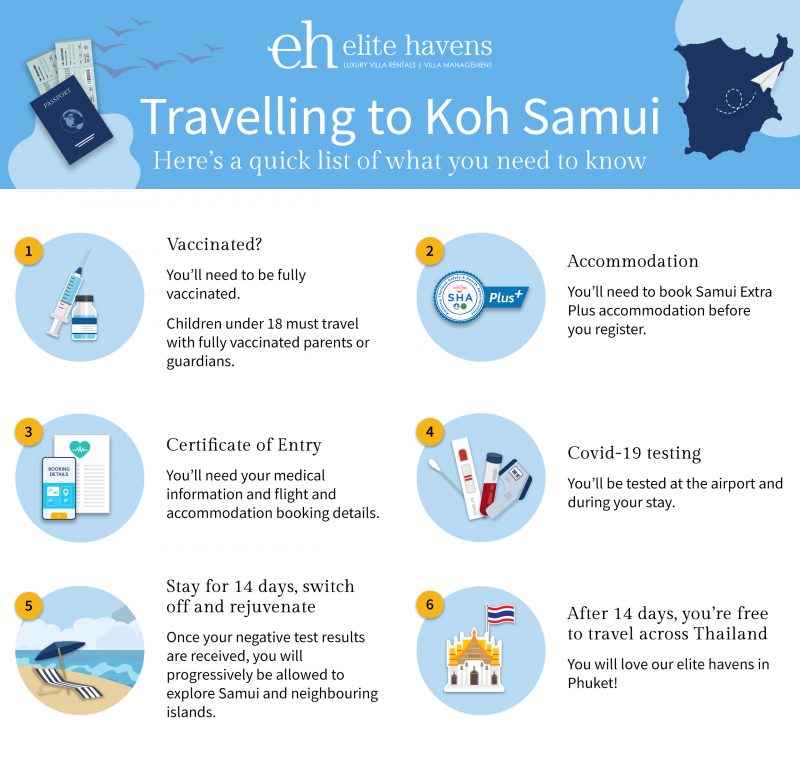 Transportation
For the initial 14 days in Koh Samui, you must only use approved transportation and tour companies. The renting of a private vehicle will not be permitted. Elite Havens will be happy to arrange transport for you. For island travel between Koh Samui, Koh Phangan and Koh Tao, only approved boats and ports can be used; public boats and ferries must not be used.
For travellers staying longer than 14 days, public transportation can be used from the 15th day onward. While it is not compulsory, it is recommended that you dine at SHA+ restaurants throughout your stay. However, staying in one of our amazing villas, you will not need to look elsewhere for delicious local and international fare.
Enjoy a safe holiday at an elite haven
Once all checkpoints and immigration requirements are cleared at Samui International Airport, you will be transferred directly to your elite haven to begin that much-anticipated holiday.
Immerse yourself in luxurious seclusion with exclusive use of all villa facilities and expect a delightful holiday experience naturally socially distanced from the crowds.
Elite Havens has implemented strict hygiene controls and cleaning procedures, and all of our Samui luxury villas have been meticulously sanitised. Our Samui Plus villas adhere to the strict protocols and guidelines outlined by the Thai Government and the Amazing Thailand Safety and Health Administration (SHA), assuring you of high standards of sanitation.
Our professional, on-ground staff members are always masked while on duty, are routinely tested and are progressively vaccinated on priority. We appreciate the trust you place in us, and all of us at Elite Havens are committed to offering you a safe sanctuary for a truly memorable holiday in paradise.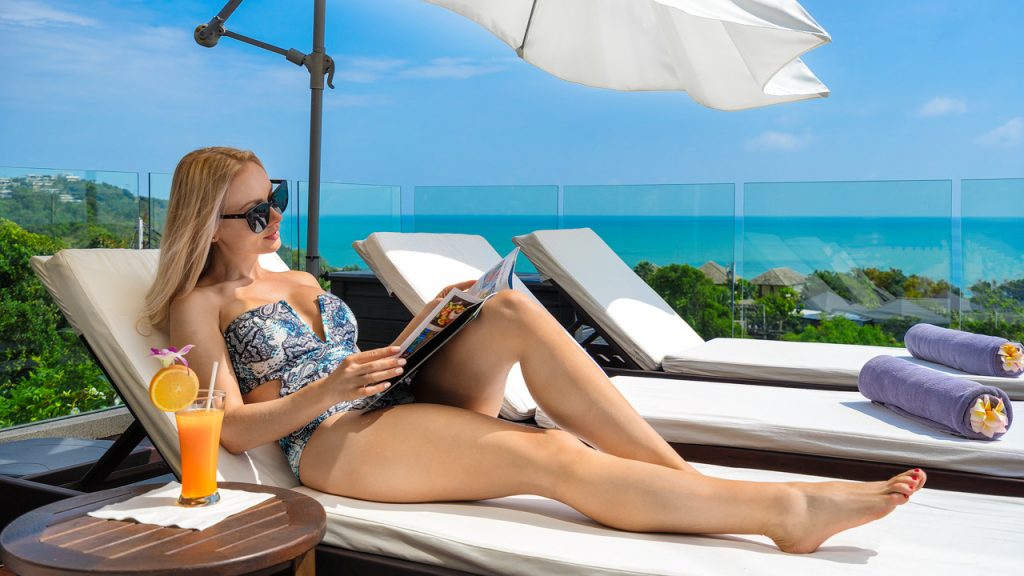 As Samui reopens to visitors from around the world, we wish everyone an enjoyable, safe and rewarding holiday. There has never been a better time to indulge in a barefoot villa vacation. Get in touch with our reservations team or have a look at ongoing promotions and offers to choose one that suits you and your family best. We can't wait to welcome you back. See you soon!
Disclaimer: As news about Covid-19 is constantly changing, we advise you to check the latest and most accurate updates through verified government websites.