What's your idea of the perfect vacation? Idyllic destination, exciting new experiences, luxurious stay, being waited on hand and foot, gourmet food and summery cocktails all day, right? We've got the perfect answer to your vacation woes. Our Koh Samui villas offer all of that and a whole lot more. One may say that when it comes to domestic Thai spirits, the selection in Koh Samui is underwhelming. Unless you know this: there is magic rum on this island.
Of the few distilleries in Thailand, Magic Alambic Rum is the only one producing a Caribbean agricole-style spirit and they offer a true island experience right here in Koh Samui – local rum tasting.
Located on the southern tip of Koh Samui, this rum distillery was founded in 2003 by entrepreneurial couple Elisa and Michel Gabrel. Elisa, originally from Martinique, and Frenchman Michel experimented with brewing alcohol from the abundance of locally-grown tropical fruits available. Unsuccessful at first, they decided to make rum in the agricole–style, a process that uses distillation from freshly squeezed sugarcane, which is readily available in North Thailand. This facility is the first French distillery in Thailand.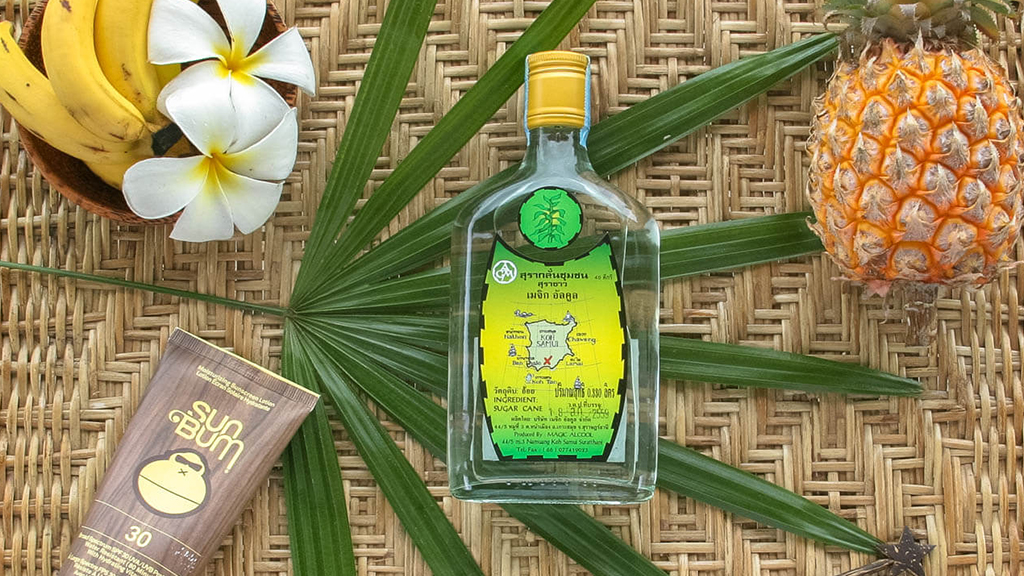 © Magic Alambic Rum
AGRICOLE SUGARCANE RUM
While most industrial rums are made from molasses and additives like caramel, rumagricole is an exception because it originated in the West Indies where the French government strictly controlled its production.
Agricole-style rum is made from a single ingredient: 100% pure first-press sugarcane juice, which gives it a dynamic and delicate earthy taste and high alcohol content. Here's how: raw sugarcane stalks are pressed to extract fresh juice, which is naturally fermented for two to three days before being distilled and put to rest in stainless steel tanks or aged in wooden barrels.
RUM TASTING IN KOH SAMUI
Visit the Magic Alambic Rum distillery in South Koh Samui for a fun and memorable experience. We recommend renting a car for a leisurely day trip to this remote area. Ask the Elite Concierge to arrange for a driver, as you shouldn't be driving back under the influence.
Visitors may be greeted by Ludovic or Martial Leplutois (owners since January 2014), and invited in to see the rum production facilities and sample the final products in the tasting area surrounded by beautiful palm trees. See the rum being made first-hand if you happen to visit Samui at the right time – the production season is from December until May. Magic Alambic Rum distillery now processes over 10 tons of sugarcane per season to achieve a distillation of about 6,000 litres of rum.
This Thai sugarcane rum is best savoured on its own or with a special addition of the homemade Ti' Punch syrup and fresh limes. A typical Caribbean-style island cocktail, Ti' Punch is refreshing and strong. Other rum flavours that you must try include coconut, lime, orange and pineapple.
Yes, flavoured rums too. Using an alembic still imported from Armagnac (the same equipment famously used to distill Cognac) the team now also successfully brews a popular selection of all-natural homemade rums from all kinds of fruits. The coconut rum, made from coconut flesh which has soaked for several months, is a best-seller. Piña coladas, anyone?
SHOP AND RESTAURANT
Magic Alambic Rum, the original version and the flavoured variations are available for purchase on-site in various glass bottle volumes. Price? Not bad at all. 70cl bottle (700ml) approximately 700 baht (USD $20) and 33cl approx. 400 baht. Check with customs in your next international destination for any limits on the amount of alcohol you are allowed to carry.
For hungry birds, there's a charming and exotic shaded alfresco dining terrace and a swimming pool alongside the rum bar. La Route du Rum welcomes groups, couples and families to enjoy Thai traditional cuisine and French casual food, a medley of international dishes that perfectly complement the zesty fruit flavours of tropical rums and cocktails. There is also a good selection of soft drinks for non-drinkers and wines and Belgian beers for non-rum-drinkers. Reservations are advised, not required. All ages are welcome.
To top off your Koh Samui experience, book a fabulous stay at one of our Koh Samui villas for the best holiday yet.