Beautiful Angthong Villa sits away from the crowd, in a tranquil area in northwest Koh Samui. Right on the beach yet secluded and private, it offers a luxurious beach escape from humdrum daily life. At first glance you will love the grand architecture and cosy feel of this four-bedroom villa, with a large living area overlooking the enticing 19-metre pool, and mesmerising sea views beyond.
But the details are what set Angthong Villa apart from the rest. Discover indulgent touches like stunning porcelain tiles in the bathrooms, gorgeous sinks that you want to take Instagram photos of, and crockery that makes every meal stand out. The villa itself offers an amazing lawn for events, right on the beachfront. Spacious and gorgeous, with extensive possibilities for birthday parties, gatherings, and romantic weddings, it's the perfect villa in which to hold special events.
Angthong Villa is also special for its unbeatable location. It's right on the beach, yet not too far from Chaweng and Bophut Fisherman's Village. It's also near the Thai temple Wat Plai Laem and the Big Buddha.
We sat down with Angthong's Villa Manager Melie, who told us about lasting friendships with former guests and also gave us insider tips on where to go in Koh Samui.
Elite Havens: Can you tell us a bit about yourself?
Melie Pundat: My name is Arirat Pundat. You can call me Melie, it's easier to pronounce.
Elite Havens: What a lovely name! So you've been the Villa Manager here in Angthong for one and a half months. What did you do before you became a Villa Manager for Elite Havens?
Melie Pundat: Before I became a Villa Manager, I worked as a Resort Host in Koh Samui. A Resort Host takes care of the VIP guests from the time they check in until they check out. One also makes arrangements for the activities they want to do and other things like that. So, it's quite similar to the job of a Villa Manager because the role is to look after the guests during their stay.
Elite Havens: What do you like most about this villa?
Melie Pundat: I think this villa is unique. The owners really have a heart for details, which is obvious in how they have mixed Thai décor with other styles, and how they have personalised everything. The first time I came to this villa, it was for my interview. Let's just say it was love at first sight. I loved the colour, it's so unique. And when you open the door, you see the swimming pool and the amazing view of the sea. I was very impressed.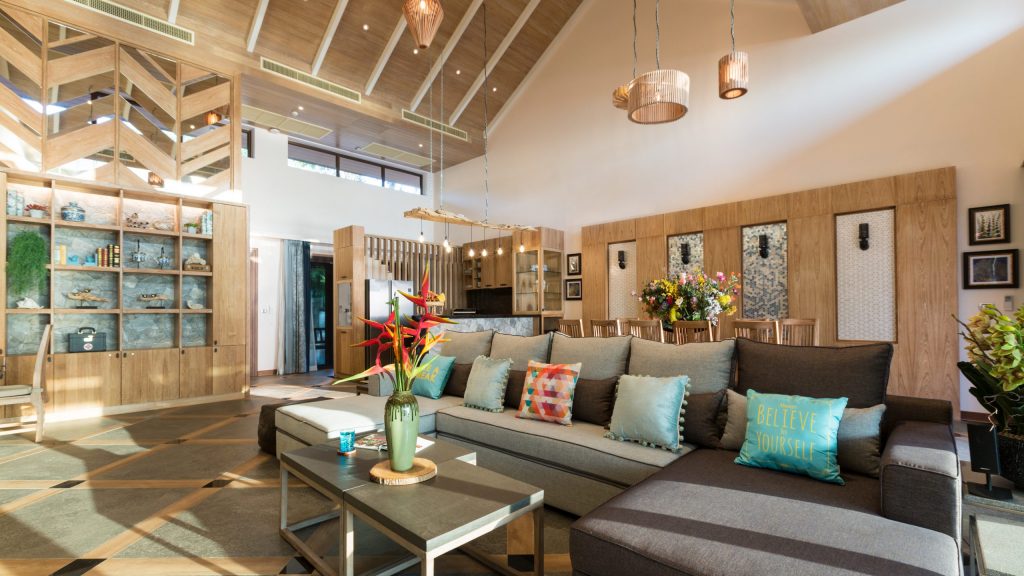 Elite Havens: Can you tell us about some of your experiences as a Resort Host?
Melie Pundat: As a Resort Host, you get to know your guests personally. In fact, I still keep in touch with some of the guests from before. For example, there was an American couple. They stayed at our resort for about 10 days for their honeymoon. They are Diamond Members, which is the highest tier, and so they were VVIP guests. So I made sure I took very good care of them during their stay and we forged a bond. Small things went a long way in making their stay special, like booking their spa visits and boat trips. And since I was in charge of them, they could text me directly, if they needed anything. On their last day, they sent me a message saying they really enjoyed their stay, thanking me for the hospitality, and that they hoped to come back and meet me at the resort again. Since then, they text me every festival, to greet me and send me a picture. So, it's nice that we were able to develop a good connection.
Elite Havens: What do you think makes a good Villa Manager?
Melie Pundat: I think you have to be service-oriented, that is key. When you do things for the guests, even the smallest of things, you should put your heart into it. They will notice the difference and it will make their stay wonderful and memorable.
Elite Havens: What are some nearby places that you can recommend to guests?
Melie Pundat: I would ask them first what kind of activity they want to do. Different people have different interests. If they want to go on a boat trip, we can arrange that. On the other hand, if local culture interests them, I would recommend a visit to Fisherman's Village which is not far. They can learn a lot about local life in Koh Samui in just one place. There are restaurants, both Thai and international, beaches, and shopping. A lot of guests like to go to beach bars like Coco Tams in the evening to relax and watch fire dancers.
Explore the idyllic beauty of Koh Samui when you stay at one of our sublime Thailand villas on the island.