Elite Havens' villas come in many shapes and sizes. That they are all luxurious homes in some of Asia's most prized locations, brimming with first-class facilities and tended to by a caring team of staff, goes without saying, but beyond that, each and every villa has its own distinctive character. Many are the fulfilment of their owners' dreams and have interesting stories attached to their creation. 'Through the Keyhole' takes a peek behind the scenes and chats with some of our villa owners to find out how the dream became a reality.
Sungai Tinggi Beach Villa owners tell us about their stunning oceanfront home on Bali's south-west coast.
How long have you owned the villa?
We built it in the early 2000s when I was engaged in developing a wide range of luxury residences throughout Bali for expatriate families. We needed a show villa to demonstrate our design and exhibit a wide range of construction materials available in Indonesia. We had already been living in Bali in the beginning of 1990 and it had taken that long to find the perfect location. There were obstacles to overcome regarding the land purchase, but we now own close to 12,000 sqm of beachfront land.
Can you share your insights on the design and construction process with us?
My company was involved in the construction of the Four Seasons Jimbaran and the Nirwana Resort in Tanah Lot. We borrowed a lot of ideas from both of these resorts when we came to design and build Sungai Tinggi Beach Villa.
The design combines a blend of Western and Balinese architecture and materials by drawing upon the Balinese family home combining separate pavilions and artwork with western comforts. It is designed to fit the contours and not detract from the natural beauty of the ever-changing landscape and features a large and bountiful mangrove plantation. For example, the river mouth next to the villa can quickly change from a canyon to a lake; viewed at dawn and sunset it presents two completely opposing views. Design is paramount in such situations because to dominate an environment is to detract from Bali's natural beauty, which is what attracted us here in the first place.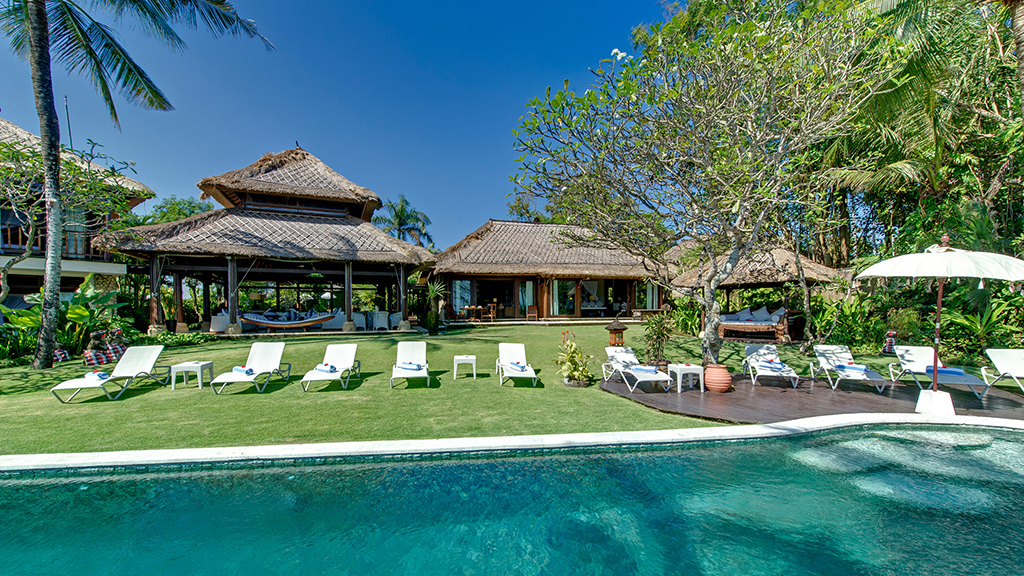 What makes Sungai Tinggi Beach Villa unique?
The villa was originally created as a family residence; a place where our children could grow up and appreciate the beauty of their environment. For guests, the whole package is pretty unique: your own private dwelling with over 18 staff all to yourself. Where else in the world can you find this?
The villa's layout resembles a Balinese compound where each family member is housed in separate buildings around a central living pavilion. What makes Sungai Tinggi Beach Villa truly unique is its vast (over 300m) ocean and river frontage. In Bali, private properties with ocean views are much sought after, but being able to combine ocean and river frontages is truly unique. Our panoramic position maximises the enjoyment of the spectacular sunsets and sunrises.
Sungai Tinggi Beach Villa has evolved over the years, and among our landscaped gardens we now have a main 4-bedroomed residence, a two-bedroomed guesthouse, a yoga shala/events bale, a coconut grove and mangrove plantation, and a timber walkway winding its way through the mangroves to the beach. In addition, there's a shared tennis court and a perfect example of a Balinese Temple adjacent to the villa grounds.
With its extensive grounds, Sungai Tinggi Beach Villa makes a wonderful event space. Can you tell us more about the celebrations held at the villa?
Whether an intimate gathering or an all-out event for 200 plus, Sungai Tinggi Beach Villa has a unique blend of intimacy and grandeur, featuring areas that can be clearly defined or combined for larger events. Typically, wedding ceremonies are held at the main villa or on the beach and the wedding dinner for larger groups is held in the coconut grove and around the events bale.
After the celebrations, the bride and groom can retire to the romantic antique timber guesthouse; private and secluded at the point where the river mouth meets the Ocean. Many weddings also feature traditional Balinese dances that can be staged in the natural amphitheatre of the grounds and viewed in comfort by the many guests.
As well as unforgettable weddings, Sungai Tinggi Beach Villa also hosts yoga and art retreats within its totally private grounds.
Have your staff been with you long, and what can guests expect from the villa menu?
It's hard not to fall in love with the ever warm and engaging Balinese smile. Having travelled extensively throughout Indonesia, we've found there's nothing else like it. Our staff are like an extended family: many of them are from the local village and have worked here since the villa was built. In fact, some of the key staff have been around since before the villa was built, and were with us when we lived elsewhere in Bali.
Our menu offers a wide variety of dishes and caters for Western and Balinese tastes. Balinese dishes make the most of the many locally available spices, and there's also a good choice of vegetarian and vegan options.
We understand that your son is an avid surfer – can you share some good local surfing spots with us?
Actually, we all love to surf, and this was one of the big attractions of Sungai Tinggi Beach Villa's location: when the opportunity arose to buy a parcel of land on one of Bali's premier surf breaks it was a dream come true! Canggu ranks in the top 50 breaks worldwide and on any given day is one of Bali's best. There's also a usually deserted break just in front of the villa.
An oasis of calm with direct and private access to the beach, Sungai Tinggi Beach Villa is the perfect getaway to experience the best that Bali has to offer.