There are many good reasons why Phuket is Thailand's most popular luxury holiday destination. The island is blessed with some of Asia's finest beaches and emerald coloured sea. Not to mention an amazing array of luxury stay options for you to choose from. Our magnificent Phuket beach villas come with personal pools, professional staff, and views to die for.
Phuket's low or 'green' season runs from May until October. You can take advantage of fewer tourists and great bargains on our private villas. Although it does rain in the summer months, the temperature in Phuket is always warm but there's plenty of sunshine between the cooling tropical downpours.
Natai Beach
One of the area's most stunning stretches of pristine beach lies just to the north of Phuket. Natai Beach is an easy 30-minute drive from Phuket International Airport. Get ready to marvel at this 10km sandy sweep on Thailand's virgin and less developed Andaman Sea coast. Expect shimmering golden sand and turquoise sea, and only a few people to share it with you.
Located near the small town of Klok Koi, you can choose from our beautiful elite havens at Natai. Except for a few rustic seafront restaurants, this remains an area of coconut plantations and fishing boats. Here, you can glimpse the laid-back rural life of Thailand.
Jump on a boat and head to Phang Nga Bay. It is well-known for its scenic karst landscapes and James Bond Island. The Elite Concierge can plan a day trip for you. You can do boating or kayaking, and explore cliffs and caves while on your excursion. Then, dive into a delicious lunch at one of the floating fishing villages to round it off.
If you're seeking peace and quiet far away from today's hectic lifestyles, Natai Beach is an idyllic retreat into another world.
You will love our outstanding collection of luxury private villas dotted along Natai Beach. Settle into these sprawling Phuket beach villas. You can rent a single villa or a group of villas together for bigger groups and events.
Where to Stay at Natai Beach
The Pines – Five bedrooms
Highlights of luxury villa living on Natai Beach include The Pines. Step into this gorgeous, low-rise beachfront villa, set amid fragrant pines characteristic of the area.
Modern and elegantly designed with the use of Burmese teak, this Phuket beach villa features five separate pavilions for up to 10 guests. Lofty roofs and glass doors that slide back for breezy evenings give you a glimpse of tropical living. The showpiece of this stunning villa is the 20-metre lap pool right by the beach. You'll be dazzled by its light tiles that blend seamlessly with the shimmering sand and sea. This is barefoot beachside living at its absolute best.
Daytime or evening, the pool deck and beachfront sala are the centre of daily life here, bamboo poles support large canvas canopies so you can spend the day on your lounger just lazing by the pool and gazing out to sea, or you can try a spot of stand-up paddleboarding, snorkelling or kayaking. Early evening is the time for sipping a cocktail as you marvel at one of Phuket's epic sunsets over the vast horizon.
With your own villa staff and a private chef to prepare memorable lunches and dinners, an entertainment room and a gym, there's is no real need to go anywhere but if you do venture out, it's fun to explore the local area by bicycle, passing through villages, local stalls and rustic beachside restaurants. There are also several upscale spots to enjoy fine dining, chic beach clubbing and cocktails.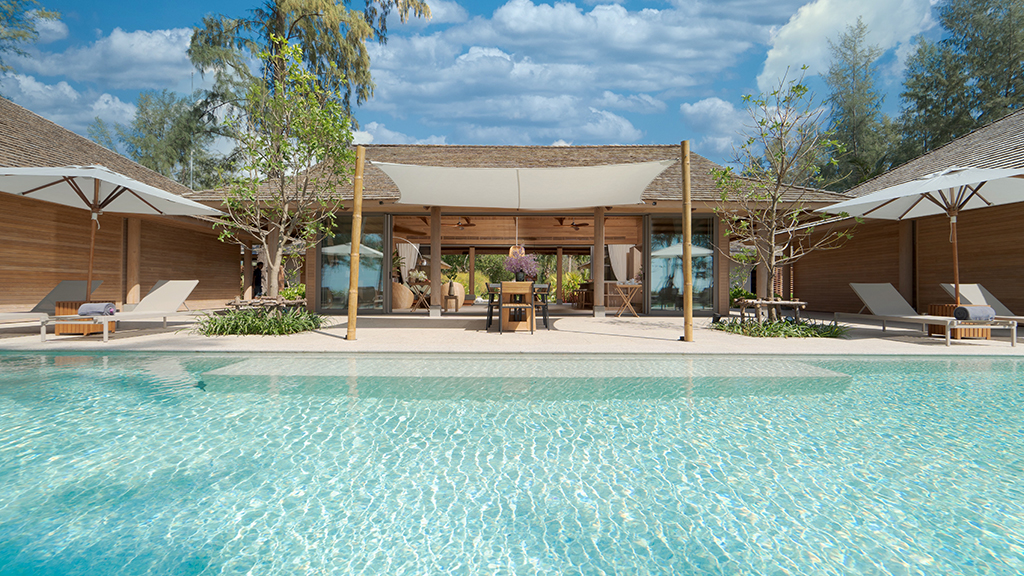 Infinity Blue Phuket – Four bedrooms
If you're a smaller group, have a look at Infinity Blue Phuket. This modern four-bedroom villa is set in a luxuriant garden with a 15-metre swimming pool which extends right to the beach.
Four comfortable and tastefully decorated ensuite bedrooms occupy two pavilions separated by a serene koi-pond garden flowing between them. A fresh, bright look with furnishings and accents in crisp white and grey create a cool, calm contrast to the colourful tropical surrounding.
The stylish and inviting living and dining terrace catches the sea breeze, making this Phuket beach villa pleasant for daytime and evening alfresco dining.
Your own villa staff is on hand to serve breakfast by the beach and prepare delicious Thai meals at your request. Your Villa Manager can also arrange for in-villa massages and yoga sessions at the villa. Meanwhile, the Elite Concierge will be happy to assist with trips to Phang Nga Bay, tee-off times for a round of golf at one of the nearby international golf courses and take care of your every wish during your stay.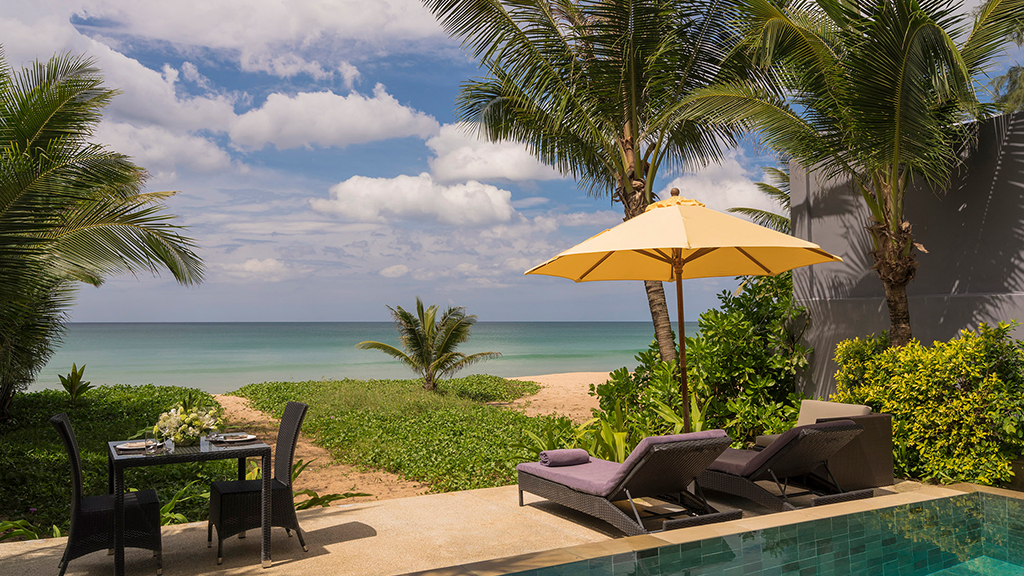 Sava Beach Villas – Seven villas offering 3-39 bedrooms
Part of a larger group for a special celebration such as a wedding? Or are you simply seeking a showcase property for your holiday paradise? Your search for the best Phuket beach villas ends here. Say hello to Sava Beach Villas, a super stylish private playground that will press all those buttons.
This stunning beachfront estate comprises seven modern villas with wide open-plan spaces and manicured lawns. Take full advantage of its spectacular 200-metre beachfront location. Dive into each villa's own private infinity pool or find your space in glamorous indoor living and dining areas. Statement furnishings, art pieces, and expansive gardens are the norm here.
Bedrooms are sleek, spacious and white, with slide-away walls which open to the cooling sea breeze. Sun loungers, shaded daybeds and a wide variety of places to find your own special space, all overlook the pool and beach.
For sports and fitness enthusiasts, this is a dream. Take advantage of shared access to a gym, kayaking and paddleboarding and acres of soft sand and grass for beachside fun and games. You will have your own army of staff taking care of your every whim.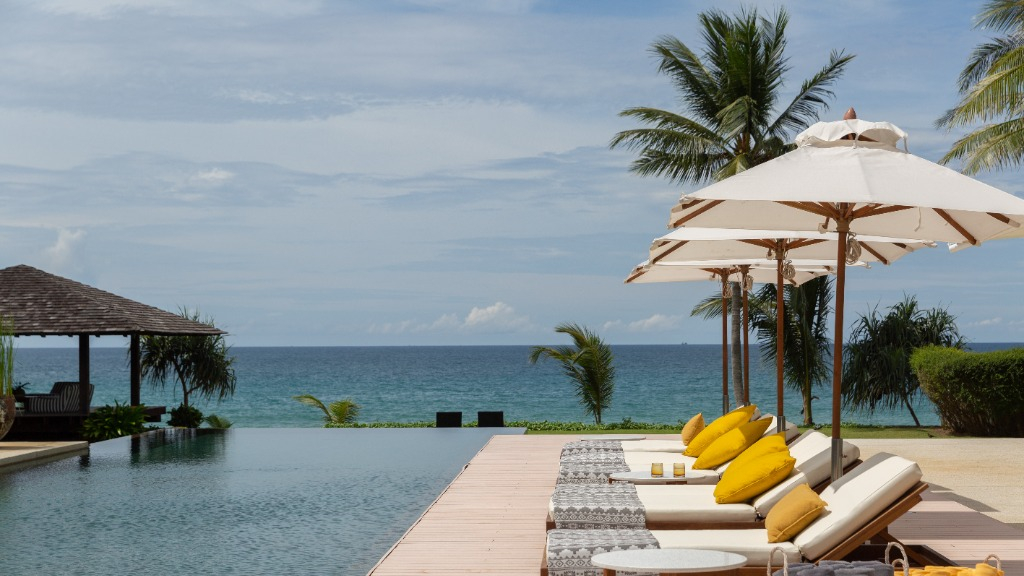 Jivana Beach Villas – Three villas offering 4-19 bedrooms
Another show-stopping holiday playground on Natai Beach is the Jivana Beach Villas. This estate boasts two magnificent six-bedroom beachfront villas and one seven-bedroom villa.
Designed in a contemporary Thai-style design, you will find opulent teak-wood features. Ample lounging and dining areas are arranged in elegant pavilions in each villa. Enjoy the luxury and amenities of a 5-star resort at Jivana.
Split-level infinity pools, 25 meters long and with shallow sections for children, are surrounded by emerald lawns and tall swaying palm trees creating the perfect tropical setting, while beachfront salas beckon for sunset spectacles and cocktails.
The pavilions offer both tropical open-air living and air-conditioned comfort. The ensuite bedrooms are set well apart for privacy and space, and feature four-poster beds with Thai design accents and wooden louvred panels which create a distinctly tropical look.
A team of welcoming staff including professionally trained Thai chefs, Villa Managers and service staff are always at hand to ensure your experience at these Phuket beach villas is the ultimate in luxury beachfront living.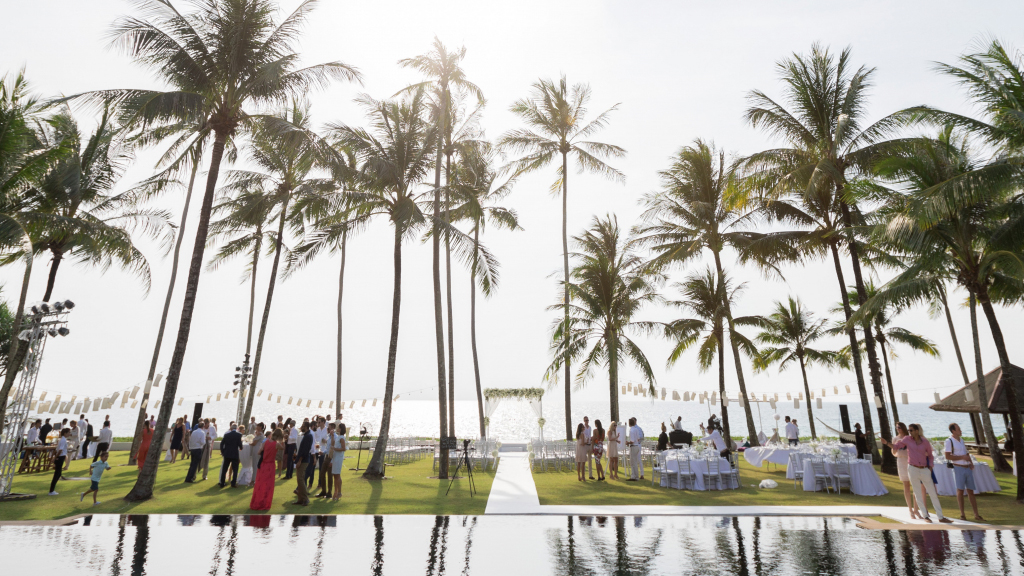 Cape Yamu
If Natai Beach is a showpiece of northern Phuket, Cape Yamu deserves the same title on the island's lesser-known and populated east coast, just 20 minutes from Phuket International Airport.
Naam Sawan
Part of the exclusive Cape Yamu Estate, the stunning Naam Sawan occupies a prime waterfront location on Phuket's scenic north-east coast.
Walk into this modern oasis, created by the world-renowned architectural team, Philippe Starck and Jean-Michel Gathy. This palatial, four-bedroom masterpiece overlooks a panoramic vista of Phang Nga Bay. Enjoy easy access to nearby islands with pristine white sand beaches and dramatic limestone islands.
Grand and contemporary in design with Thai features and striking art pieces, this multi-level villa is all about open-plan living. Opulent plush interiors, wide verandas with sweeping sea views, and sumptuous ensuite bedrooms feature exceptional amenities one would expect from a five-star luxury retreat.
You can also access the award-winning five-star COMO Point Yamu Resort next door. State-of-the-art sports and wellness facilities, superb dining and a private beach club are just a few of its charms.
Choose one of our fantastic Phuket beach villas and settle into a life of luxurious tropical living. Need some help? Get in touch with a Villa Specialist and find a villa that suits your needs perfectly. One of our Phuket beach villas is sure to be perfect for you and your family.