Located in the Gulf of Thailand, the island of Koh Samui is a tropical gem. Famous for swaying coconut palms, lush greenery and beaches with sand as soft as powder, the island is a popular destination for holidaymakers seeking a laid-back vibe. While it's easy to rave about the beaches on Koh Samui, and that's what most people know about Samui, the island has much more to offer.
With lush hills offering scenic views of the sea, fishing villages, and white sand beaches, Samui offers different strokes for different folks. It caters to those looking to spend days worshipping the sun as well as travellers in need of a respite from cities. Whether you're looking to head to the beach or run for the hills, Koh Samui truly has something for everyone.
So, what's your Samui style? Let's find out.
Nature Lovers
Koh Samui has a wide appeal. The island is a playground, and the best things to do include enjoying both natural and manmade attractions. Nature lovers can explore waterfalls, the splendid Ang Thong National Marine Park and the 'Grandpa and Grandma' rock formations, Hin Ta and Hin Yai, at the southern end of Lamai Beach.
For those interested in history, a visit to Bophut's Fisherman's Village is a must. This historical part of Bophut is lined with rustic buildings, boutique shopping and trendy restaurants. The charming neighbourhood turns into Fisherman's Village Walking Street Market every Friday night. The lively atmosphere of the market is a wonderful place to shop for souvenirs and take in a slice of local life.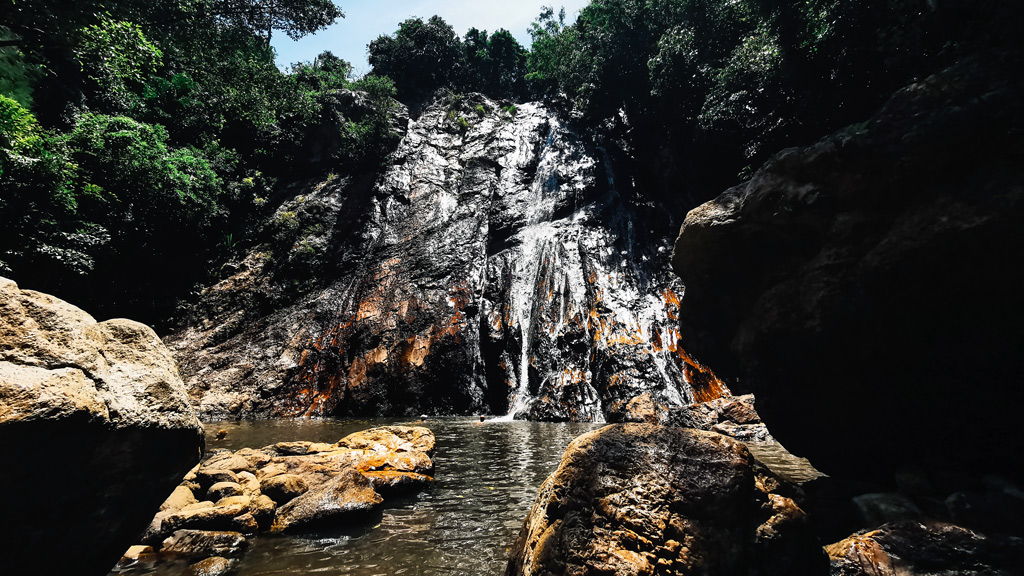 Art & Culture
Thai culture is rife on Koh Samui, and it's worth taking the time to visit the island's impressive shrines and temples. Highly recommended is a trip to the Big Buddha. Located on the northern coast, the shrine is one of Samui's most famous landmarks. Essentially a 12-metre tall golden statue, the Big Buddha is stunning. On the grounds, the surrounding temple has many different shrines with smaller Buddha figures. Near the Big Buddha is Wat Plai Laem, a living and active Buddhist temple with extremely ornate art and decor. Buddhist devotees visit Wat Plai Laem daily to pay homage to Guanyin, the Goddess of Mercy, as well as the Chinese Buddha statue on the lake.
Art connoisseurs will be pleased to discover a thriving art scene on the island. Local artists display original works in boho-chic galleries at beyond affordable prices. A few of the galleries offer simple art classes and ceramic workshops for those looking to hone their artistic skills while on holiday.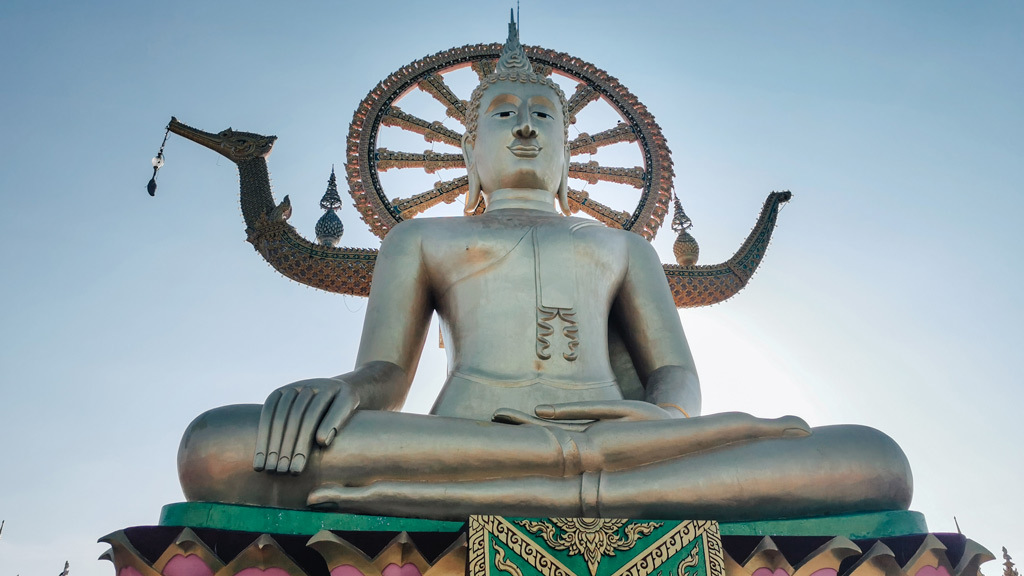 Foodies
Little do people know that the food in Koh Samui is not a clone of what you will find elsewhere in Thailand. The region has its own micro-cuisine and splendid dishes such as the fried whole fish or local candy made with glutinous rice called Kalamae make dining here a unique experience.
While out exploring Samui, do make sure to sample the local street food, or hit up any of the trendy restaurants, eclectic vegan eateries and cool cafes on the island. The coffee culture on Koh Samui is strong, and the island offers plenty of places to enjoy a robust cup of coffee and a slice of homemade cake.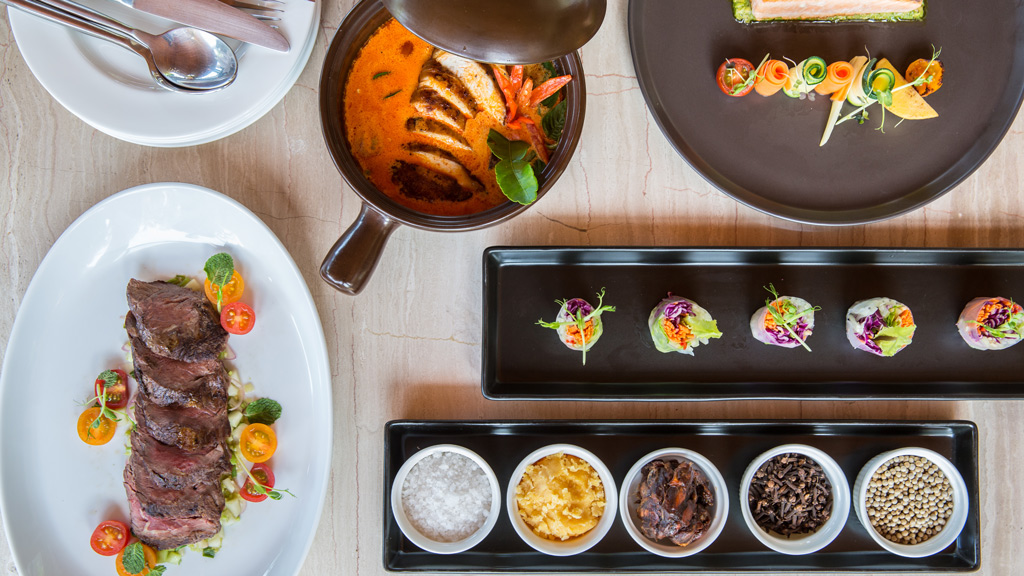 Where to Stay in Koh Samui
Now that you've discovered what aspect of Koh Samui is sure to catch your eye, it is time to decide what's your Samui style. Do you yearn for sandy beach holidays where you spend your days gazing out at the sea and sinking your toes in the sand as you perfect your tan? Or would you rather head for the hills and immerse yourself amongst beautiful nature, lush greenery and the famous swaying coconut palms? Whatever you choose, you're in luck! Travellers to idyllic Samui are spoilt for choice when it comes to private villas on the island.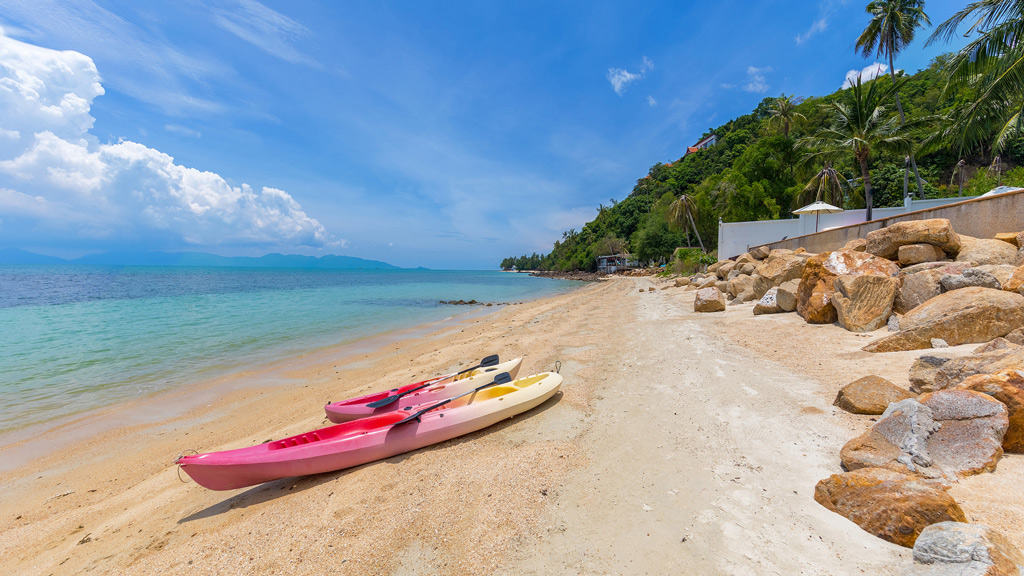 Beach Vacations
If you love beach holidays, Samui is the perfect place to head to. The white soft sand is a dream to walk on and the endless blue seas, a feast for the eyes.
Located at the absolute beachfront of Lipa Noi, Ban Suriya is a beach lover's dream. Imagine waking up to the sound of gently lapping waves, leaping out of bed, sliding the vast glass doors of your room open, and stepping onto the soft white sands of Lipa Noi Beach. At Ban Suriya, which means sunshine, you can! The spacious six-bedroom villa caters to 12 adults and 4 children, making it an exceptional escape for families or groups of friends travelling together with their kids. Ban Suriya offers a large variety of activities including two canoes, a stand-up paddleboard, a pool table, a giant chess set, table tennis and a big swing on the beach.
Hilltop Villas
If you prefer to gaze at the azure sea from atop a lush green hill, surrounded by tropical greenery and the feeling of utter seclusion, these hilltop villas will tick all of the boxes for a relaxing stay in Koh Samui.
Element of 8 at Cape Laem Sor Estate is an exclusive hillside retreat on Samui's south-west coast. The villa boasts breathtaking views of the perfect emerald sea and lush green islands. The stylish Element 8 features a contemporary design with three descending levels, a manicured tropical landscape, a stunning private clifftop pool and a gorgeous living and dining pavilion. Suitable for families or groups of friends, the villa accommodates up to 12 guests and has six luxe bedrooms.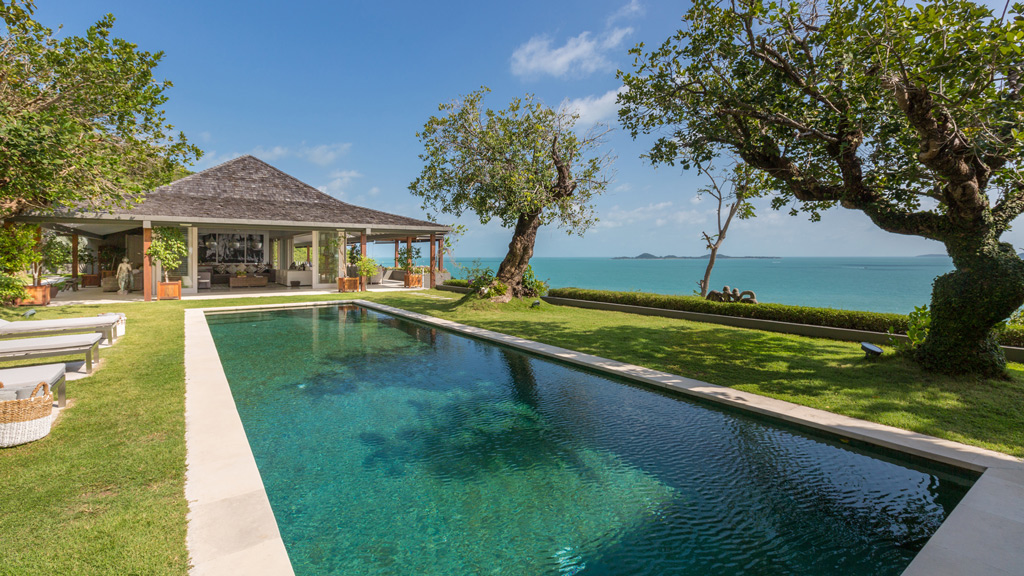 Tucked into the cliffside at Laem Noi, Villa Riva is another favourite. A dreamy, architectural wonder that sleeps 14 adults and two children, it is designed over multiple pavilions and has a social clubhouse with all entertainment facilities, floating gazebos, a floodlit tennis court, 32-metre pool, private cinema for 10, fitted wine cellar, barbecue sala, gym, sauna and a massage room. You'll never run out of activities to keep you busy at this villa, but make sure you take time to explore all that Samui has to offer, too.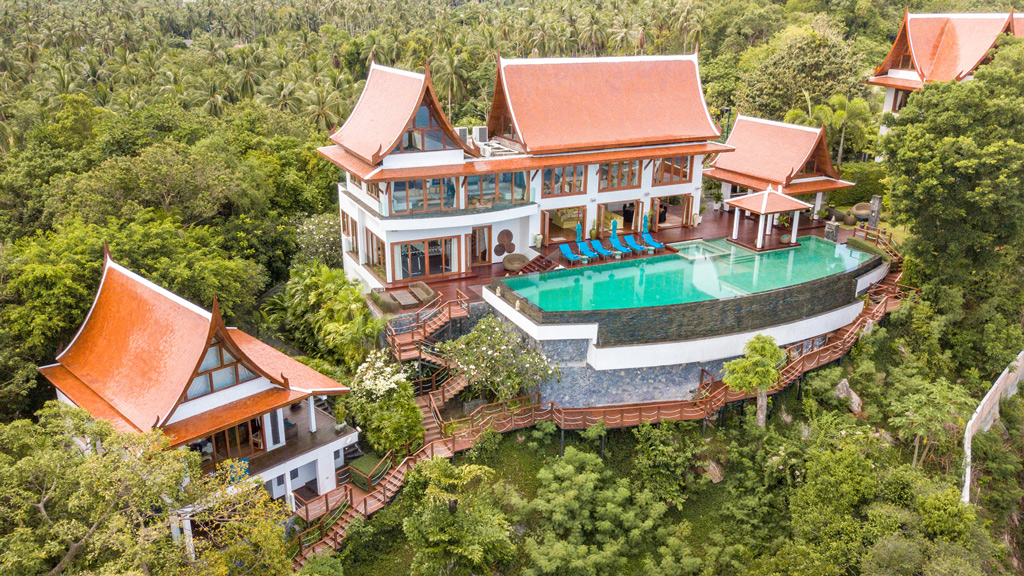 Celebrations & Events
If you're heading to Koh Samui with a large group or to celebrate a special occasion, we have the perfect villas for you to choose from.
Suralai is a gem conveniently located 15 minutes from the airport yet boasting peaceful, landscaped grounds and complete privacy. An impressive six-bedroom standalone villa, Suralai has a 25-metre infinity pool and offers breathtaking panoramic views of Bophut Bay and the surrounding islands. Suralai is also the perfect event villa for a family holiday or a group of friends visiting Koh Samui to celebrate a special event.

Discover your Samui Style with Elite Havens
Rich in culture and blessed with natural attractions and a wide range of tourist sites, Koh Samui does tick the boxes for a tropical getaway filled with new experiences and fun activities.
Discover your Samui style and enjoy a wonderful Elite Havens holiday on Koh Samui. With a choice of luxurious villa options perfect for special occasions, celebrations and weddings or a memorable family or friends trip, you're sure to find your ideal haven. Book your stay with us today.