Villa Rodnaya is a modern four-bedroom holiday retreat with superb views over Nai Thon Beach on the tranquil northwest coast of Phuket. Found on the hillside within the exclusive Malaiwana estate, Rodnaya has been built to please families and young groups. It's brimming with facilities and features, such as a children's playroom, a media room and an amazing 18-metre pool with a safety barrier for younger kids. Stroll down to the beach, or stay in and fall in love with Rodnaya's stylish design and tranquil surrounds. And here's a secret few know – the villa even has its own music studio, available only to professional musicians on request.
The open-plan kitchen at Villa Rodnaya has stunning views of the beautiful Nai Thon Beach, and we chatted with Chef Gear as she shared her favourite recipe with us. Here's a sneak peek at what keeps the guests coming back to Villa Rodnaya – Chef Gear and her Grilled Chicken Thai Red Curry.
Elite Havens: What is your background?
Chef Gear: I didn't plan to become a chef, but it was my destiny. I took a cooking class at high school, and at that moment I knew exactly what I wanted to do for a living.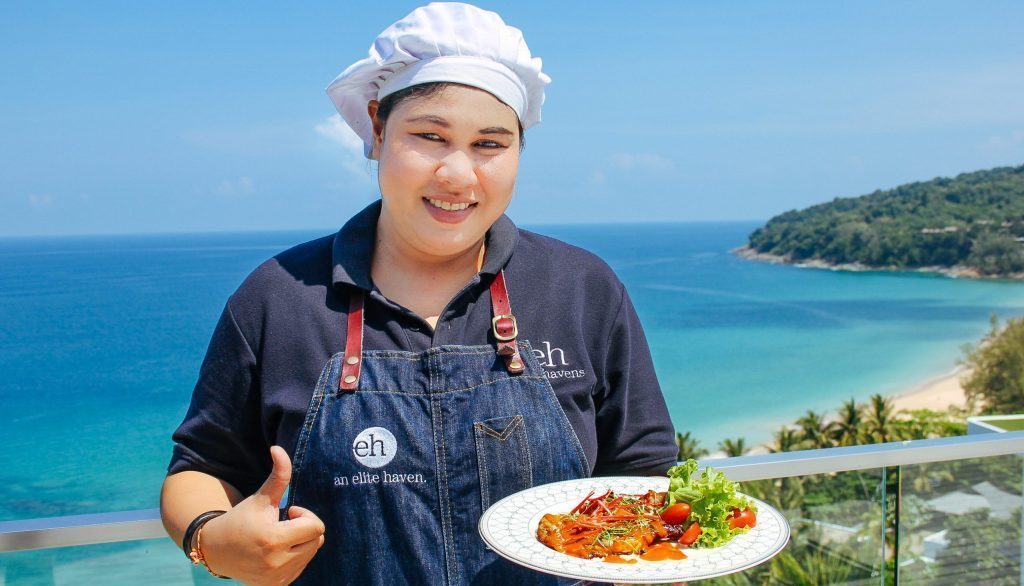 Elite Havens: Did you train in the culinary arts?
Chef Gear: I do not have formal culinary training from a cooking school but it is my passion that has brought me here. After taking cooking lessons at school, I would cook for my family daily, and they are the hardest people to please!
Elite Havens: What qualities should one have to be a cook?
Chef Gear: It is so important to maintain hygiene and ensure that your work area is kept tidy.
Elite Havens: What did you cook for us today?
Chef Gear: Grilled Chicken Thai Red Curry.
Elite Havens: Why did you choose to make this dish for us?
Chef Gear: It's my signature creation. A lot of my guests ask for it repeatedly and say that it is the best they have had in Thailand.
Elite Havens: What is your speciality dish or the flavours you like to cook with?
Chef Gear: My favourite dishes are Massaman Beef, Green Curry Chicken and Grilled Chicken. And of course, the dish that I am about to cook for you today.
Elite Havens: What should guests expect from you when you cook for them?
Chef Gear: Pure and original Thai flavours.

Chef Gear's Grilled Chicken Thai Red Curry
Ingredients:
Boneless chicken thighs or legs 200 g
Red curry paste 50 g
Coconut milk 2 tbsp
Fish sauce 1 tbsp
Palm sugar ½ tbsp
Sliced red chillies ½ tbsp
Sliced kaffir lime leaves ½ tbsp
Vegetable oil for frying ½ tbsp
Instructions:
Grill the chicken until golden brown and the skin is crispy.
Mix 1 tbsp of coconut milk in a frying pan along with ½ – 1 tbsp of red curry paste. Heat on medium-high flame.
Bring to a simmer and add more coconut milk as needed to create a nice smooth sauce.
Add 1 tsp of fish sauce and 1 tbsp of palm sugar and mix well (you may add more fish sauce or more palm sugar to taste).
Remove the grilled chicken from the grill and layer with the Thai Red Curry.
Garnish with sliced red chillies, kaffir lime leaves and a drizzle of coconut milk. Serve hot.
Stay in the fabulous Villa Rodnaya or any of our Elite Havens in Phuket for an amazing escape.