Here in Bali we like to layer up the recommendations to try Balinese food and Indonesian food, especially our chef's special recipes, but Bali is a foodie's paradise with international chefs plating dishes with flavours from all corners of the globe.
Did you know you can find sensational seafood, authentic Mediterranean cuisine and extraordinary Middle Eastern food in central beachside Seminyak? That's exactly how Linda Lim handled three nights out with friends:
Dinner for Two: Urchin
Urchin Bar and Restaurant is relatively new to Seminyak's seafood scene. We let restaurant manager Ramon Meijer choose our dishes for the evening (and didn't regret it one bit).
STARTERS: Having worked up quite an appetite while browsing at the amazing Kim Soo homewares store next door, the bread basket hit the spot; thick slices of warm bread with butter and a dusting of seaweed powder. The real starter was tuna tartare, fresh raw cubed tuna coated with lime juice and wasabi and stuffed into a crispy cone made from wonton wrapper.
FIRST MAIN: Homemade sea urchin fettuccine with juicy prawns, clams, garnished with crispy fried seaweed 'balls' and a dollop of caviar. I twirled the fettuccine ribbons with my fork and popped the crunchy seaweed 'ball' into my mouth. Delicious. To finish, I mopped up the remaining sauce with a slice of bread (it seemed sinful to waste all that delicious sauce).
SECOND MAIN: Sea bass with grilled octopus, ink sauce, lemon coulis and (more) crunchy seaweed 'balls'. This fish was cooked to perfection, crispy on the outside and flaky on the inside. Each bite-sized piece gets topped with a pat of lemon coulis and ink sauce. What a combo, you need to taste it to believe it.
DESSERT: A pleasant creamy nougat glacé, half-blanketed with an almond-crusted orange coulis. Light and refreshing, it was the perfect way to end the night.
GUESS I'LL BE BACK FOR LUNCH: According to Ramon, Felix Da Housecat is a fan of the Urchin lunch special – crispy pork belly with tzatziki, pickled cucumber and apple salad in a tortilla wrap.
Urchin
Jalan Laksmana 22, Seminyak, Bali 80361
info@urchinbali.com
Dinner for Four: MoVida Bali
MoVida Bali, a Spanish tapas restaurant, wowed us with quality dishes and peerless service. Not far from Semiyak Beach, our taste buds were on other sandy shores, in Barceloneta, in San Sebastian, in Cádiz…
STARTERS: Tapas, of course. Our group of four shared a selection of charcuterie served with Catalan tomato bread to start our evening feast. My favourite was chorizo Iberico (spiced paprika sausage).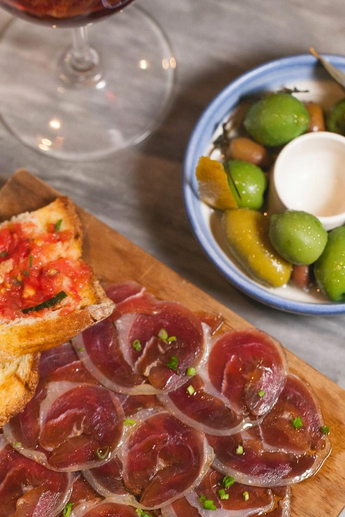 IMAGE: INSTAGRAM.COM/MOVIDABALI/

From the tapas menu, we also ordered anchoa and bocadillos. The salty Cantabrian anchovy was well balanced by the tangy sweetness of smoked tomato sorbet and a crunchy crouton. Each petite bocadillo had soft shell crab with aioli in a warm squid ink bun. You bet that was tasty too.
MAINS: Txangurro, a Basque-style baked mud crab was incredible. We enjoyed scooping chunks of (piping hot) crab meat from its shell onto our plates. What won us over was the Carrillera, soft pork cheeks (which cut like butter) served with sweet and sour prune sauce.
To accompany our star dishes, we ordered Remolacha, a beautiful mix of baby beetroot, smoked yoghurt and fragrant walnuts.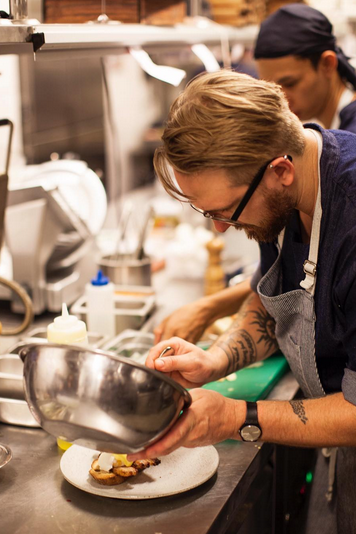 IMAGE: INSTAGRAM.COM/MOVIDABALI/

DESSERT: It didn't take long before our server appeared with not one but two desserts. The Tarta Garza, burnt Basque cheesecake with strawberry sorbet was by-the-book (sweet and tart). We went wild for the Flan, an unbelievably smooth Spanish cream caramel (duck egg is the secret to its taste and texture) with crispy spiced pestinos pastries.
We left MoviDa feeling spoiled and satisfied. Frank Camorra, you've done it again.
MoVida Bali
Jl. Petitenget No.51, Seminyak, Bali 80361
reservations.movida-bali@pttfamily.com
www.katamama.com/en/movida
When dining at MoVida, present your Elite Experience card for a complimentary cocktail at Akademi Bar.
Dinner for Six: AlDiwan
Al Diwan is right in the heart of Seminyak, above the busy street level in a cool flat. The restaurant makes a striking impression with its surreal décor (lush velvets, mirrors and crystal chandeliers), warm hospitality and divine Lebanese dishes. All eight dishes shared by our group were extraordinary, no exaggeration.
STARTERS: We began our Lebanese feast with dips and mezze. They arrive with stacks of warm Lebanese bread and we almost overstuffed ourselves way too early. Beautiful small plates loaded with tender garlicky chickpeas dressed in spices and olive oil; fragrant cheeses; smoky eggplant with tahini, garlic and lemon juice; amazing falafel with dips; and cubes of fried potatoes with garlic, coriander and lemon.
MAINS: We then ventured into meat territory with a mixed grill platter. Lamb kebabs and minced lamb on skewers. Also, chicken kebabs. A parsley and onion salad and a garlic dipping sauce were served alongside. The meat was slightly charred, tender and flavourful. Every bite was heavenly.
DESSERT: We ended our evening feast with chilled sweet rice pudding with rose flavoured cream and Lebanese cream slice, slathered with chopped pistachios.
Long after the waitresses cleared our plates, we remained happily settled into our extravagant velvet-covered chairs, enjoying the low light and Arabic music. We lingered in our exotic bubble a little while longer… perhaps a bit too long. Before we knew it, we were the last patrons in the popular restaurant.
Al Diwan
Jl. Petitenget No. 99X, Seminyak, Bali 80361
reservations@aldiwanbali.com
www.aldiwanbali.com
Photo credit: INSTRAGRAM.COM/ALDIWANBALI/
For a taste of Seminyak, book a private villa now and we'll be happy to provide you only with the best Bali has to offer.