You have to love a cuisine that managed to invent another flavour. Umami refers to that extra layer of deliciousness that defies description.
Sake no Hana
Sake no Hana may be new in Bali but they come with a serious reputation in other parts of the world, most notably in London's fashionable Mayfair. Described as contemporary Japanese, Sake no Hana's Executive Chef travelled from London to create this menu and it is filled with temptation and flavour. From their signature menus, which offer exotic imports like Kobe beef, Hamachi sashimi and Alaskan king crab, to bento boxes to a scale of signature menus, this is worth the splurge.
Overlooking the sparkling new daytime destination, Savaya, on the Uluwatu coast, Sake no Hana is filled with light by day. At night, as the club closes, it becomes a sophisticated destination restaurant. With a refreshingly different menu of bespoke cocktails alongside some wonderful wine and sake selections, Sake no Hana adds sophisticated new flavours to Uluwatu.
Top tip: Leave room for desserts, which are beautiful, creative and delicious.
Ryoshi
Ryoshi's owner, Sagon Togasa, opened his first Ryoshi in Seminyak to house his two great loves; sushi and jazz. It still does that and more. With Ryoshi now in Sanur, Ubud and offering welcome respite to shoppers in Galleria, the menu has expanded alongside the empire.
At heart is the sushi window, with chefs slicing sushi and sashimi to order, fresh seafood is also part of the philosophy. There are grills, braises and rice bowls. A range of delicious kushiyaki, grilled food on sticks, and some delicious vegetarian options.
Agadashi tofu is a hit here as is the Japanese steak, the traditional fried chicken and steaming bowls of udon with your choice of toppings. Best of all it's ultimately affordable.
Top tip: Monday night is the most popular night as the jazz is always world-class, head upstairs and take a seat in the restaurant or hang out at the bar.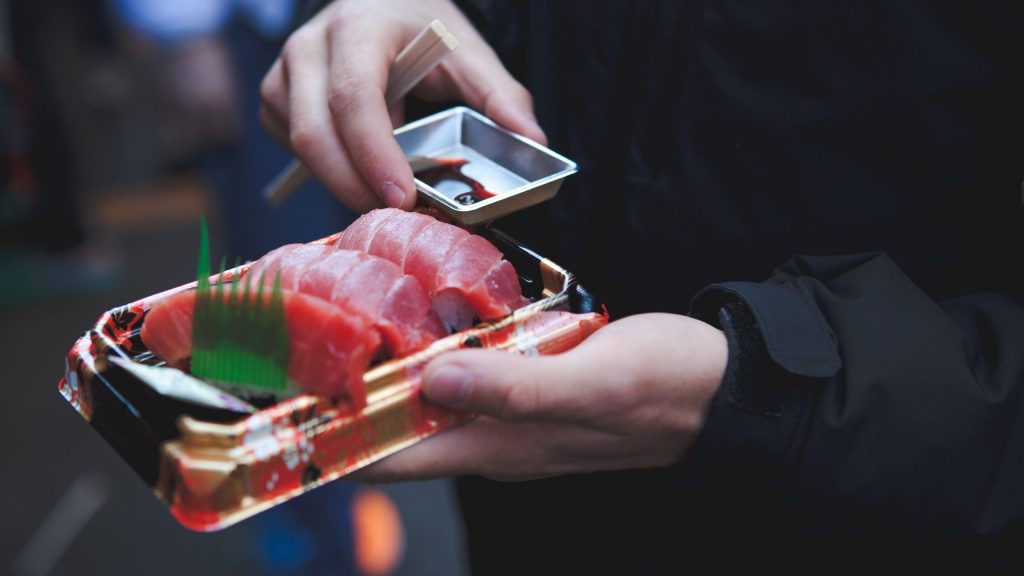 Sushimi
When Tokyo meets Bondi, you have Sushimi. The sweet little sushi train that took Seminyak by storm four years ago, continues to draw a crowd for their fast, fresh and fabulous sushi. Sushimi is also a great option for the health-conscious, offering all of their sushi with a choice of white or red rice and recently a beetroot-stained version. Central to Sushimi are the chefs who slice and roll the fresh sushi.
The a la carte menu offers some equally delicious options including the popular chicken teriyaki, a wafu steak, flash grilled, chicken or pork katsu, agadashi tofu, fresh garden salads, and more recently sushi doughnuts and burritos which are showing up at fashionable parties. Sushimi is also affordable, and a lot of fun.
Top tip: Friday nights are most popular when all the sushi plates are Rp20,000, you may have to get in line.
A centuries-old Chinese temple may seem a strange set up for a Japanese restaurant but when it's Tugu, you expect the unexpected. The modern Japanese restaurant opened on the ground floor of the Tugu Hotel in fashionable Batu Bolong a couple of years ago and has now spread upstairs on to the open terraces overlooking the sea. The menu slides effortlessly between the authentic and the modern, between California-style stuffed rolls, hand rolls, lively grills and fabulous seafood.
No standing on occasion here, enjoy your sushi exactly how you like it, where you like it and enjoy the intimate restaurant set up or the open terrace with fabulous ocean views.
Top tip: Sunset and happy hour happily collide at Ji Terrace, get there early to grab the best spot.
Above Eleven
Nikkei cuisine is incredibly popular across Peru and has taken the world by storm in recent years. Above Eleven, overlooking Jimbaran Bay is the second rooftop restaurant opened by this group, the first is in Bangkok. Peruvian sushi and tiradito – the hybrid version of sashimi – are deliciously different and somehow manage to honour both culinary traditions. The flavour that binds the two is called tiger's milk. It is the liquid extracted during the ceviche process that is then used as a marinade on raw seafood and dressing on traditional sushi rolls.
Above Eleven is a spacious rooftop terrace with a large central bar and an open kitchen where chefs create the fresh sushi, the ceviche and the tiradito in a dazzling display of skill. The menu offers both Japanese and Peruvian a la carte dishes, although not the famous guinea pig that the Peruvians love. Funny that.
Top tip: Make sure to try the traditional Peruvian cocktail, a Pisco sour, it works surprisingly well with sushi.
Rayjin Teppanyaki
Dahana is the graceful garden restaurant that is built around a pretty pool on Petitenget street. It is a favourite of many and has an army of loyal followers. The traditional Japanese menu offers sushi, sashimi and some delicate cooked dishes. In an interesting twist of events, both of the sons of Dahana's owners have entered into the family business and opened a teppanyaki restaurant, Rayjin and a contemporary sushi house, Kayjin, right beside the original restaurant. Rayjin is a riot, from the moment you arrive, as the staff all greet you simultaneously. The roar of the tepan grill and the chop and dice of the ever-moving knives adds colour and movement to some great dishes in the teppanyaki style.
Upstairs at Kayjin the mood is equally fun as beautiful, jewel-like sushi plates are created, putting a modern spin on the traditional. Whatever you fancy, each has its own character, they are all recommended and it simply depends on your mood. The prices are excellent as well, so try them all perhaps?
Top tip: This is a great place to head with a group, reservations are recommended.
Japanese food has infiltrated the far corners of the world, satiating our interest as well as our appetites. After a night of feasting on these sumptuous meals, have a restful stay at one of our villas in Bali.