Natai Beach is the ultimate holiday escape. A relaxing destination, Phuket's more serene neighbour is a charming Thai village featuring a ten-kilometre stretch of pristine beach with breathtaking scenery. It is home to a handful of luxurious elite havens, perfect for those looking for a tranquil holiday escape. You'll be happy to know that Natai Beach's food scene is also quite vibrant.
Being slightly away from the hustle and bustle of central Phuket, the local neighbourhood has much to offer, especially in terms of delectable dining experiences. If you're looking for recommendations for Natai Beach food, here's our pick of a few lovely restaurants, both on and off the beach, as well as a memorable in-villa dining experience.
5 Must-Try Restaurants in Natai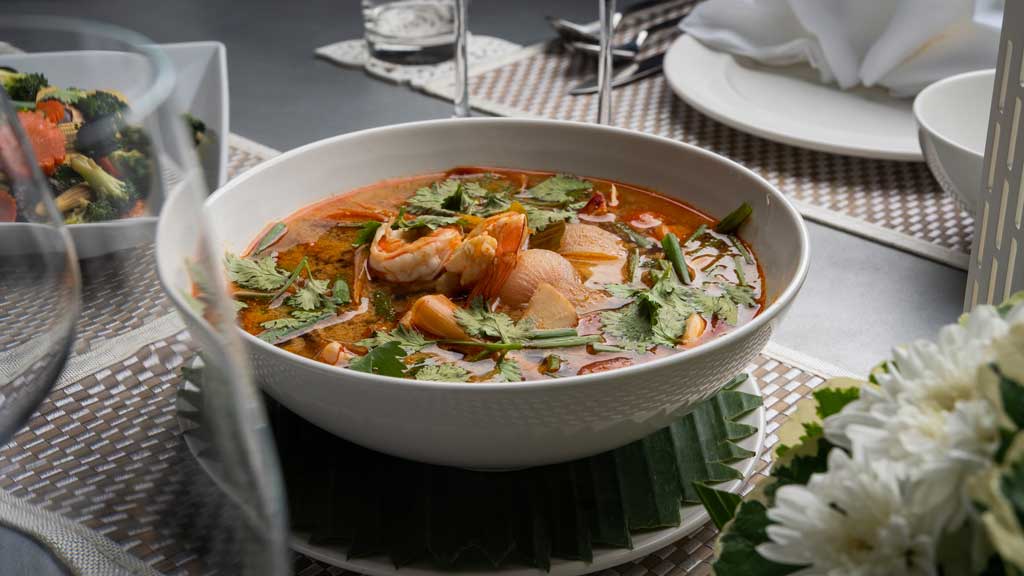 The EDGE Restaurant
Specialising in fusion Thai and international dishes, the all-day dining menu at The EDGE Restaurant focuses on healthy delights and a vast seafood selection. Try Thai staples, oodles of Asian-inspired noodle dishes, burgers and sandwiches, or enjoy an elegant dinner and feast on prime cuts of meat and super fresh seasonal produce.
Rabiang Lay Seafood Restaurant
Ideal for families, Rabiang Lay Seafood Restaurant is located right on Natai Beach. With a relaxed atmosphere and warm, hospitable service, the restaurant is a nice option to spend a lazy afternoon feasting on fresh prawn and squid dishes or melt-in-your-mouth fish options plucked straight from the sea.
Lelawadee Restaurant
Located in Natai Beach Resort, Leelawadee Restaurant serves up heaping plates of authentic Thai fare and succulent grilled seafood. The beachfront restaurant boasts gorgeous views of the Andaman Sea and is the perfect spot for a romantic sunset dinner.
Club Akyra Restaurant & Bar
A delightful seaside restaurant & bar, Club Akyra features a great menu of signature favourites such as the fresh Crab and Mango Salad, and the Monster Burger – an Australian Wagyu beef patty topped with cheddar cheese, freshly sliced avocado, grilled onions and crispy pork. There's enough variety on the menu here to keep even the fussiest eaters happy.
KruChom Kitchen
A family-run Thai and seafood restaurant that is 100% Halal, KruChom Kitchen offers up an assortment of reasonably priced fresh seafood dishes as well as spicy Thai curries and classics such as fried rice and Pad Thai. There's also roti – a sweet flatbread – for dessert.
3 Local Michelin Guide Restaurants Not to Miss
Head inland to the small yet bustling town of Khok Khloi to discover three of the best local restaurants all mentioned in the coveted MICHELIN Guide.
Khok Kloi Bami Tom Yam Khai
A local street food favourite that has been serving delicious Tom Yam noodles for years, Khok Kloi Bami Tom Yam Khai's soup is known for its intense broth. The noodles come dry or in a soup with a choice of noodles garnished with a soft-boiled egg. Other dishes, such as simple rice and chicken, are also available here.
Nern Khao View Talay
Nestled on a hilltop, Nern Khao View Talay has a relaxed dining ambiance and offers beautiful views of the lush landscape below. The restaurant's dining area is situated on a wooden pavilion for a rustic feel while the menu is outstanding. Choose from a variety of dishes including local southern Thai specialities. It's highly recommended to try the spicy seafood soup here.
Thian Leng Bak Kut Teh
Using a secret recipe from Malaysia, this restaurant specialises in slow-cooked Bak Kut Teh, known in English as pork rib soup. The wonderfully fragrant soup is served in a clay bowl filled with tender ribs whose meat effortlessly falls off the bone. This soup is a popular staple in the Phuket and Natai area and is a tastebud-pleaser!
Experience Gourmet In-Villa Dining Courtesy of a Personal Chef
One of the best parts about staying in a private villa at Natai Beach is having meals prepared for you by the villa's chef. Each Elite Havens villa comes with a personal chef, many of whom have trained abroad at internationally acclaimed restaurants. Your in-villa chef will be happy to prepare meals upon request, customising them to your preferences, and utilising the freshest local ingredients and produce.
While staying at your chosen elite haven, make sure you indulge in gourmet in-villa dining. Sit back and relax as your personal chef prepares a sumptuous feast and dine poolside in your villa or perhaps arrange for a delicious BBQ to eat on the terrace with sweeping views of the Andaman Sea as a backdrop.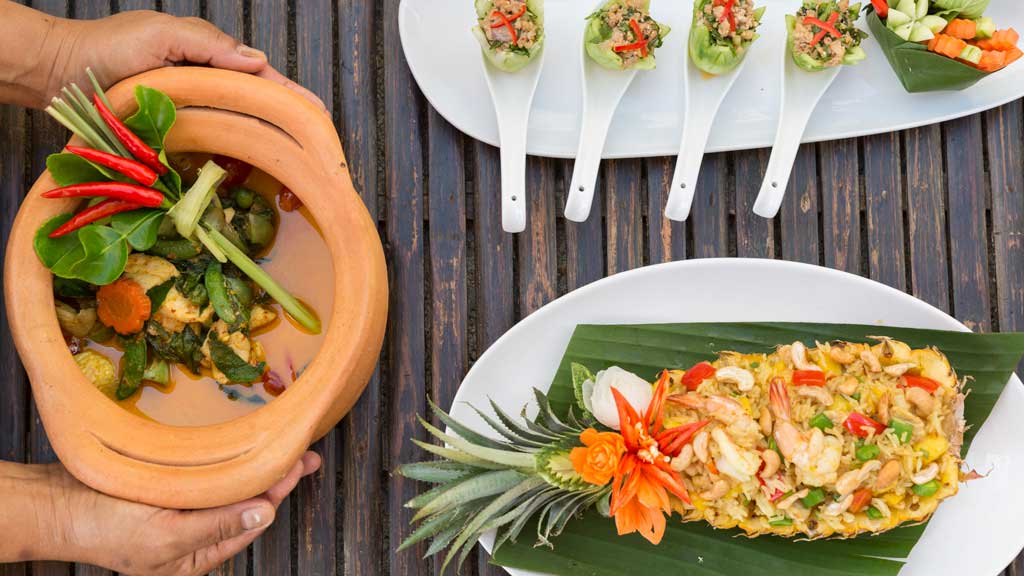 Visit and Discover Natai Beach with Elite Havens
Does a relaxing holiday in a serene location with an abundance of delicious dining options readily available strike a chord? Our havens on Natai Beach offer the utmost in luxurious comfort with stunning views and impeccable personal touches.
Great for families, groups of friends or couples seeking a quiet romantic holiday, Grand Villa Noi offers a beachfront lush tropical setting, while Veyla Natai Residences – Sea Villa weave artisanal crafts into a modern yet minimalist design.
Jivana Beach Villas are perfect for larger groups or for hosting a special occasion as they offer 12-19 bedrooms and accommodate 36 adults and four children. Nestled into an exclusive estate, Sava Beach Villas offer seven luxury beachfront villas with ultramodern design and contemporary interiors.
Experience barefoot living at The Pines on Natai Beach with a beautifully secluded location and space enough for 10 adults. Baan Taley Rom offers a blissful, rejuvenating escape ideal for families or groups while Infinity Blue Phuket is the perfect serene escape to discover all that Natai Beach has to offer.
Villa Nandana is spacious enough for families or groups, and it's an elegant beachfront haven of seclusion and serenity.
To learn more about our luxury villas on Natai Beach or to secure a booking, please contact us!