Dreaming of a restorative escape to a tropical paradise? What better destination than Thailand, the spa capital of the world? The exotic islands of Phuket and Koh Samui have an abundance of sun, sand and sea – well known natural therapies for the body and spirit. And with an incredible choice of spa and massage services around the islands, it's easy to add some much-needed R&R into your tropical holiday.
The Elite Concierge will be happy to organise spa treatments in the comfort and privacy of your villa. Early morning yoga in your personal garden? No problem. You can also request for private training sessions, whether held indoors or even on the beach. However, if you prefer heading out for group classes, there are plenty of options around, from yoga and martial arts training to weight loss and detox programmes, and even meditation or tai chi lessons.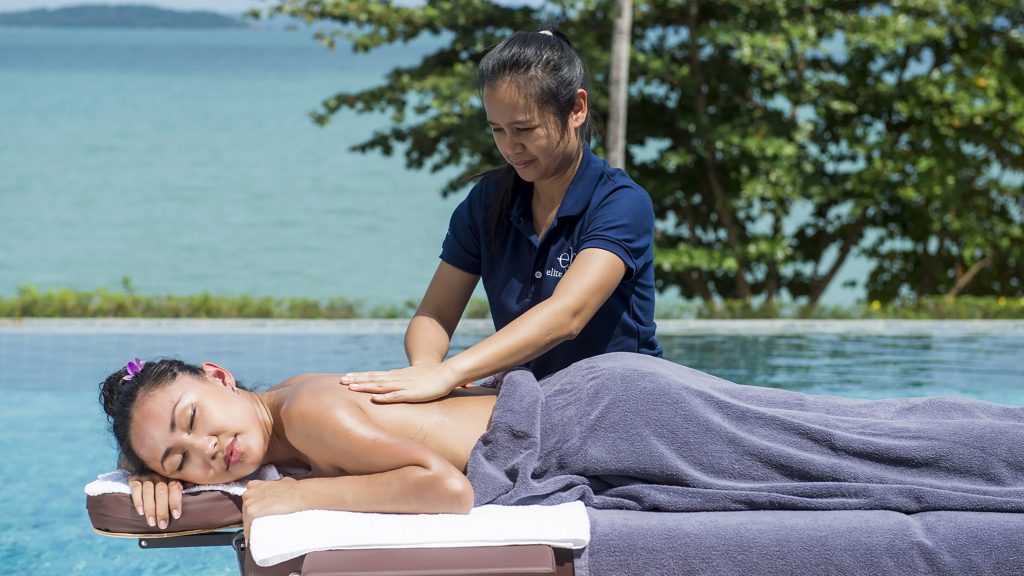 And when it comes to massages and spa treatments, there's nothing like a relaxing Thai massage. Restore your senses with a quick and effective foot massage on the beach or indulge yourself with a full day of treatments at a day spa in serene surrounds. Or turn your Phuket or Samui luxury villa into your own spa haven by inviting in a skilled therapist to pamper you in your holiday home.
Experiencing a spa treatment in Phuket or Koh Samui is much more than a mere holiday indulgence. It might just change your life! Many spa therapies are infused with ancient Thai healing arts that focus on restoring the body's inner balance and clearing blockages that cause ill health and fatigue. It's all about regaining that inner glow. Here are some of our favourite Thai therapies that you must experience on your next trip.
THAI TRADITIONAL MASSAGE
Thai Massage, or nuat thai, combines acupressure, Indian Ayurvedic principles, and assisted yoga postures. It is an ancient art, thought to have been developed by Buddhist monks over 2,500 ago. These days, however, Thai massages are easily available island-wide in Phuket and Samui. You'll find massages offered everywhere from small shops and tents on the beach, to shopping centres, markets, and upscale day spas. But don't expect to be treated gently! Traditional Thai massage is an especially vigorous treatment that involves a series of bends, compressions and stretches to stimulate energy flow and ease aches and pains.
HEALING WITH A THAI TOUCH
Thai traditional massage is just one of many holistic and healing treatments practised in Phuket and Samui. For something more gentle, opt for an Aromatherapy Massage, a soothing therapy that uses blends of essential oils crafted for each individual's restorative needs. A therapist might choose an energising oil like ylang-ylang or calming lavender or chamomile oils, which are massaged into the skin in gentle strokes to relieve stress.
Hot Stone Massage is a speciality spa treatment found at many day spas. This treatment involves using flat, smooth, heated stones, which are placed on specific areas of the body as an extension of the hands of the therapists. The heat from the stones sinks deep into your muscles, relaxing you from within.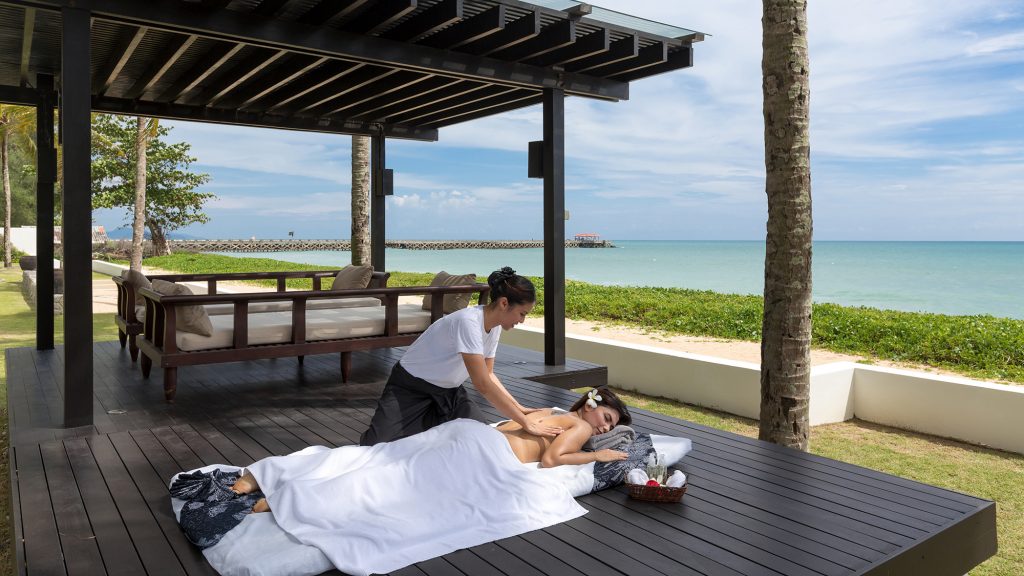 The use of reflexology and acupressure points, cupping, peeling, herbal masks, compresses, packs, scrubs, and the use of essential oils are all part of the Thai Facial Treatment. Gentle pulling, kneading, circular movements, squeezing, and shaking techniques are used by therapists during a facial session. Although there are certainly typical Thai elements to be found in the facial massage treatments offered in Thailand, many are in fact a blend of both Western and Oriental facial treatment styles.
Thai Foot Massage draws upon reflexology techniques to unblock energy channels in the feet and legs. A thumping movement is usually involved in the technique. The treatment starts with washing your feet with herbal water or an exfoliating scrub, followed by a massage using essential oils such as eucalyptus or camphor.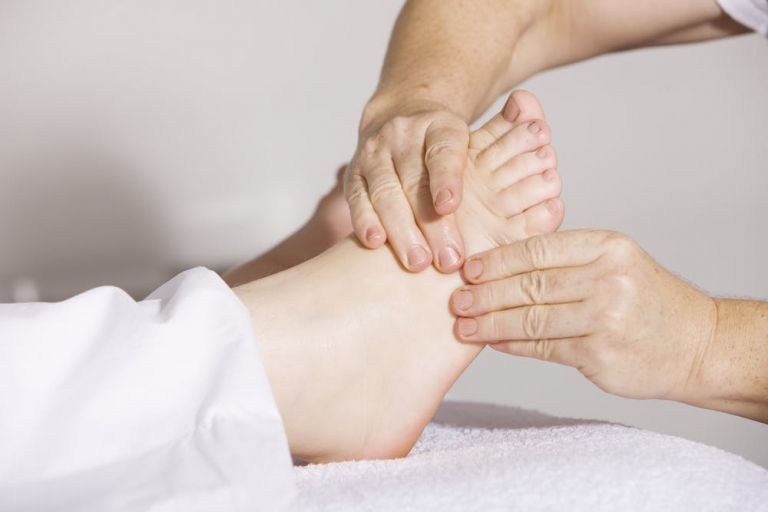 Thai Herbal Compress is a treatment that often follows a Thai massage, using a blend of herbs that are compressed, steamed and tightly wrapped into the fabric. Herbs typically used in the treatment include tamarind, turmeric, lemongrass and kaffir lime – an enlivening mix of scents that help awaken the senses. These herbal wraps are pressed and massaged into the body, especially the back and shoulders, to soothe muscles and ease aches and pains.
A Body Scrub is a healing technique that treats the body from the outside in, exfoliating the skin with a combination of sea salts, lotions, oils and herbs such as thyme, tamarind, turmeric, cinnamon and lime. Scrubs help cleanse and nourish the skin, remove dead cells, and leave your body with a healthy glow.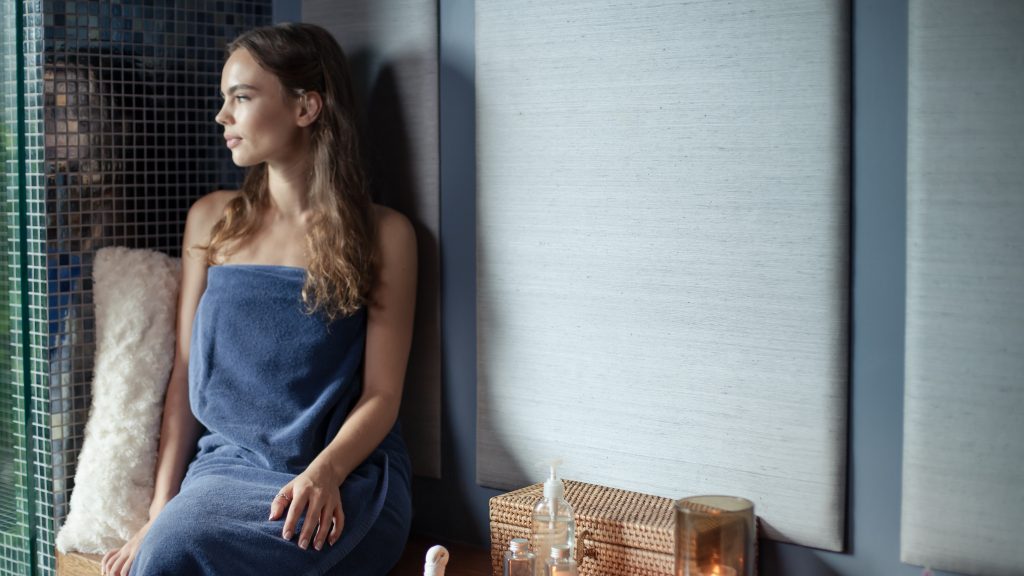 A Healthy Body is Home to a Healthy Mind
For something more invigorating, Phuket and Samui have a wealth of fitness, beauty and spiritual centres offering an array of services. Get a tranquil mind-body makeover by trying tai chi, yoga or meditation. Work on your core strength during a Muay Thai kickboxing lesson, or a personal training session. Ask the concierge to book you a hairstyling appointment that includes a healing head massage, and don't forget to give your feet and hands some love, by treating them to a manicure and pedicure. Never underestimate the therapeutic power of a little added sparkle on the nails. It's these small things that go a long way in making you feel good.
Wind down and relax in your own private villa. Book and secure your tropical retreat from our enchanting selection of Thailand villas.