Ramadan 2023 is a time for reflection and compassion. But when it is time for iftar, what better way to break your fast than with one of our delicious halal recipes?
From rendang to spicy Balinese chicken, these recipes will soon become staples in your menu. Our in-villa chef shared his favourite halal recipes for you to try during Ramadan 2023, whether for iftar or sahur (or both).
The Chef
Chef Anik who prepares delectable food for guests in Bali has been an Elite Havens villa chef for an astounding seven years. Emphasising her love for the job, she said, "I love to communicate with guests and discuss their preferences with them. It makes me happy when our guests enjoy their meals and when they tell me that they had fun and learnt a lot during our cooking classes."
Best-loved dishes
Chef Anik shared that her best-loved dish is the Balinese Chicken with Spicy Sauce. "Guests also love my Indian preparations such as Aloo Pudina and Chicken Tikka Masala. Local Indonesian favourites include Roast Chicken Sambal Matah and Beef Rendang," she added.
Halal Recipes
Back to halal goodness, the chef gave us his most treasured halal recipe for you to try at home. As a special treat, we have also included a bonus vegetarian recipe from Chef Kadek at The Iman Villa. Have fun making these for your family!
Halal Recipe 1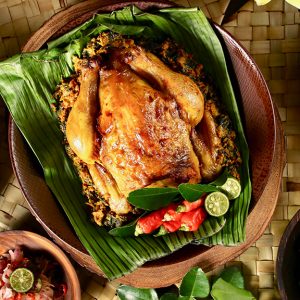 Balinese Chicken with Spicy Sauce
Ingredients
400

g

chicken breast

salt and pepper,

to taste

5

tbsp

oil,

for frying

lime juice
Spicy Paste
50

g

garlic

100

g

shallots

150

g

red chilli

50

g

hot chilli

10

g

turmeric

10

g

ginger

10

g

candlenut

300

g

tomatoes

50

g

brown sugar

1

stalk

lemongrass

shrimp paste
Instructions
Preheat the oven to 356 degrees Fahrenheit. Rub the chicken breast with olive oil or coconut oil and season with salt. Place the chicken on a baking tray with water to make it juicy, and roast until done, about 40 minutes.

Using a mortar and pestle or food processor, combine chillies, shallots, garlic and turmeric, grind to a smooth paste. If you are using a blender, make sure to add a little bit of water or cooking oil to blend the ingredients.

Heat 5 tablespoons of the cooking oil in a wok, add in the spice paste and lemongrass, stir-fry until fragrant. Season with salt and pepper to taste. Add in another tablespoon of cooking oil if you want. Remove from the heat and transfer into a bowl, set aside.

Back to the chicken in the oven. When it's done roasting, remove it from the oven and let it cool. Discard the skin and shred the meat into medium-thick strips. Take a spoonful of the spice paste, combine with the chicken meat, toss well until the chicken is perfectly coated with the spice paste. Add another spoon of the paste if not well coated. Serve the remaining spice paste as a side or as sambal.

Transfer the chicken onto a serving plate and squeeze lime juice on it before serving.
Halal Recipe 2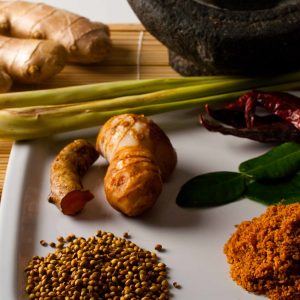 Bean Curd and Tofu Rendang
Ingredients
160

g

tofu

160

g

bean curd

250

ml

coconut milk

1

onion,

sliced

salt and white pepper,

to taste
Rendang Paste
3

tbsp

desiccated coconut

1

tsp

turmeric

1

tsp

salt

1

tsp

sugar

2

stalks

lemongrass,

peeled and sliced

1

onion,

sliced
Instructions
Cut the bean curd and tofu into squares, about 1.5 cm thick, then fry until golden brown on all sides.

Pound or blend the toasted coconut, garlic, shallots (or onions), lemongrass, chillies, ginger, turmeric, salt and sugar together to a paste.

Stir the paste slowly until the water is reduced.

Mix the fried tofu and bean curd into the paste over low fire and add some salt and pepper, stir for 5 minutes.

Pour the bean curd and tofu rendang into a bowl and serve with fried onions.
Do try these at home, whether you eat halal food or not, and let us know on social media how it turned out.