Bali has long been an Asian capital for sensational spas and salons. Seminyak and Canggu are keeping ahead of the trend with a swathe of shape-up shops offering men everything from a simple sports manicure through to the full 'manzilla'. Walk-in, schedule an appointment or contact them about doing your groomsmen.
BALI BARBER
First on the island to put male grooming on the spa map with its flagship Seminyak shop, Bali Barber is conveniently situated above sister operation The Shampoo Lounge. Haircuts are the new hip souvenirs and this Bali Barber has a picture wall of famous sports stars, celebrities and even a couple of coolly coiffed kids, so clients need only point and pick their preferred style.
Pamperings on offer include skull shave, sports massage and mani-pedi's plus some 'tactical waxing' from neck, back and shoulders through to the full MANzillian. Bali Barber is legendary among grooms and their mates as the operation will create a full-on pop-up shop in your wedding villa – complete with reclining barber's chair.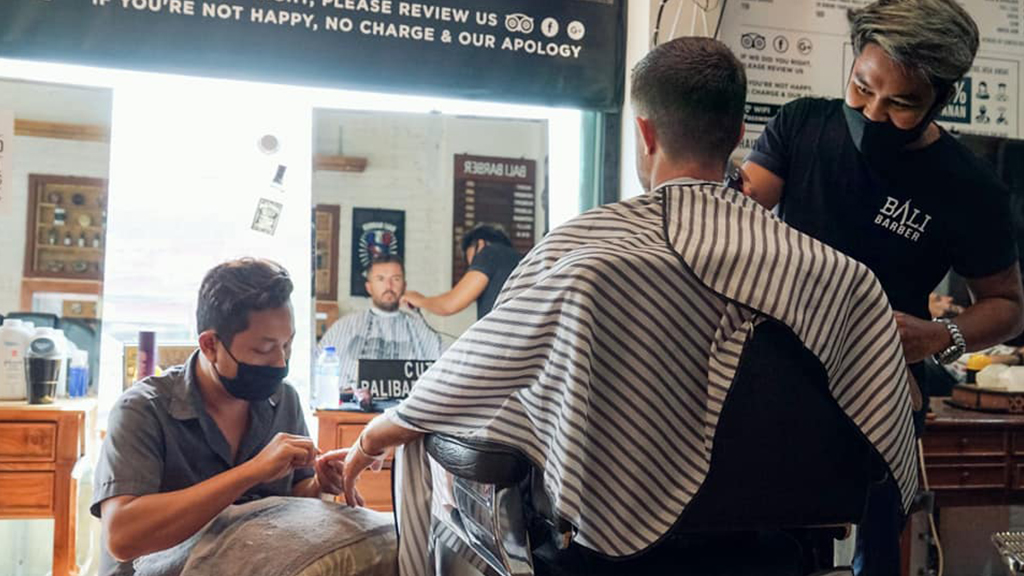 GOLDUST BEAUTY LOUNGE
The local surfers know exactly where to go in deepest Canggu for a great Balinese massage in a male-friendly environment. Goldust in Batu Bolong, Canggu offers knot decimating massages and stress-busting reflexology. The Gents Package is a tailor-made facial and foot revives for the gentlemen.
SEVEN BARBER
Petitenget is a small venue that offers big results for fabulous fathers, partners and brothers. Claimed as Bali's No.1 Premium Barbershop, you can trust your hair in their professional barber man's hands. They also have packages for Father & Son cut. Wanna match your hairstyle with your little man? You know where to go!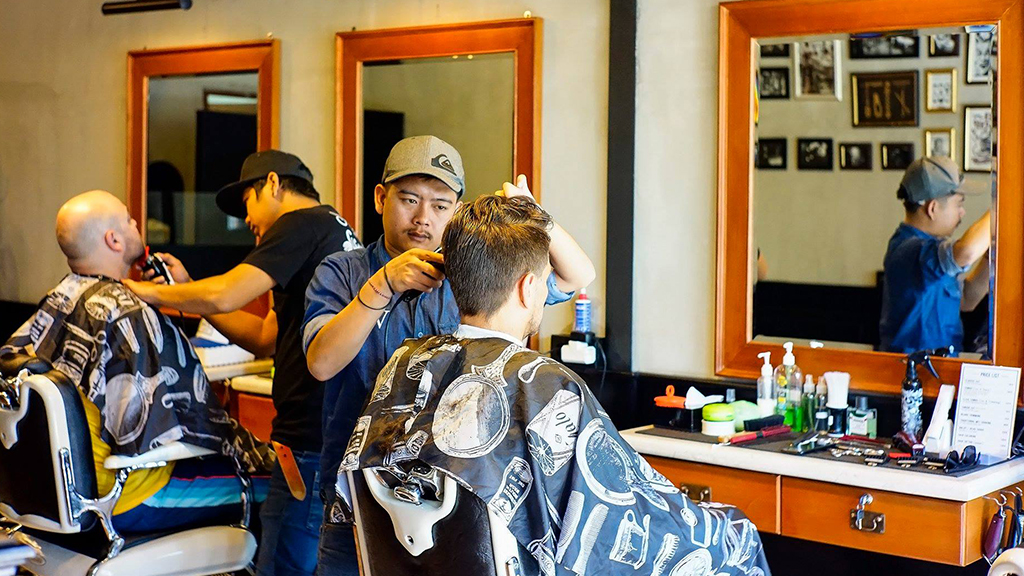 CHILL REFEXOLOGY
In Seminyak, this is the place for men who love an outstanding massage in an environment that takes no truck with frills or fluff. The majority of Chill Reflexology's clients are men – the same gender as its team of highly trained reflexologists who work through the clothes, so no disrobing goes on at this masculine operation. Think dimmed lighting and clear clean lines of minimalist architecture. A long room is flanked with rows of reclining massage beds separated by sheer curtains. iPods with disposable ear-bud covers are handed out, loaded with your previously selected choice of music to chill by. An eye mask is slipped on and the journey begins as your master reflexologist starts his work from the feet up.
At a time when beards are at an all-time high in the fashion stakes, laid back 'man cave' grooming shops are springing up all over Bali to meet the demands of the modern man. These outfits offer much more than a snip and a shave. Male grooming has never looked so good. Are you ready for bar-hopping on Friday?