Besides its rich culture and art which sets Bali apart from other island destinations, it is also unique in the variety of beaches it offers. Choose from powdery white sands to rocky cliff-fronts, from unreal volcanic black sand beaches to those with golden champagne hues. With so many options, a single trip can not do Bali justice. But for your next trip to this fascinating island, here's help.
We've decoded Bali's stunning coastline and put together our Elite Concierge-curated list of the best white sand beaches on the island. Some of these are well known and others hidden secrets that only locals know about. Find your ideal haven on one of these beaches and get ready for a trip to paradise.
Sanur
With its bohemian vibes, Sanur is favoured by the sophisticated set. Owing to an influx of artistic expats who settled here more than half a century ago, the area has a very laid-back feel with a long beachfront promenade. A great beach for families, it allows for swimming and also has some lovely restaurants right on the sand.
Book a luxury villa in Sanur and enjoy swimming at Sanur Beach, with its gentle ocean swell and spectacular sunrise views. End each day with a run along the promenade, coming back to freshly crafted cocktails served by the attentive staff in your villa. Allow yourself to get pampered.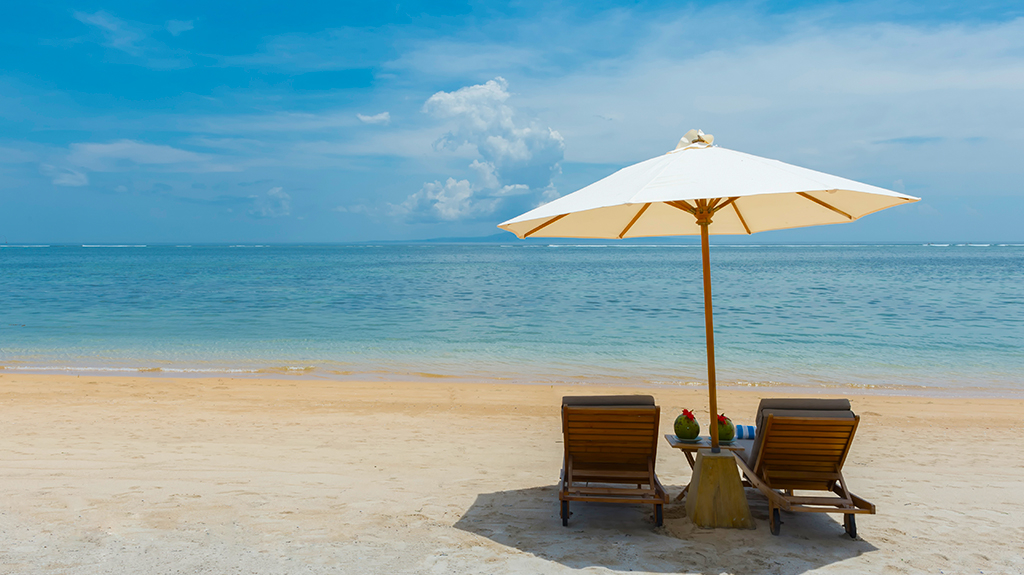 Nusa Dua
The spotless white beach of your dreams lies here, at Nusa Dua. With five-star resorts lining up the coastline, the beach is well maintained and impeccably clean. Enjoy water sports like jet skis and banana boats here, or just walk along the shore, with the waves gently lapping at your feet.
Turquoise water, clean beaches and lack of crowds – Nusa Dua is picture-perfect. The beaches are easily accessible from all our villas at The Bukit, which brings us to the other fabulous beaches in the area.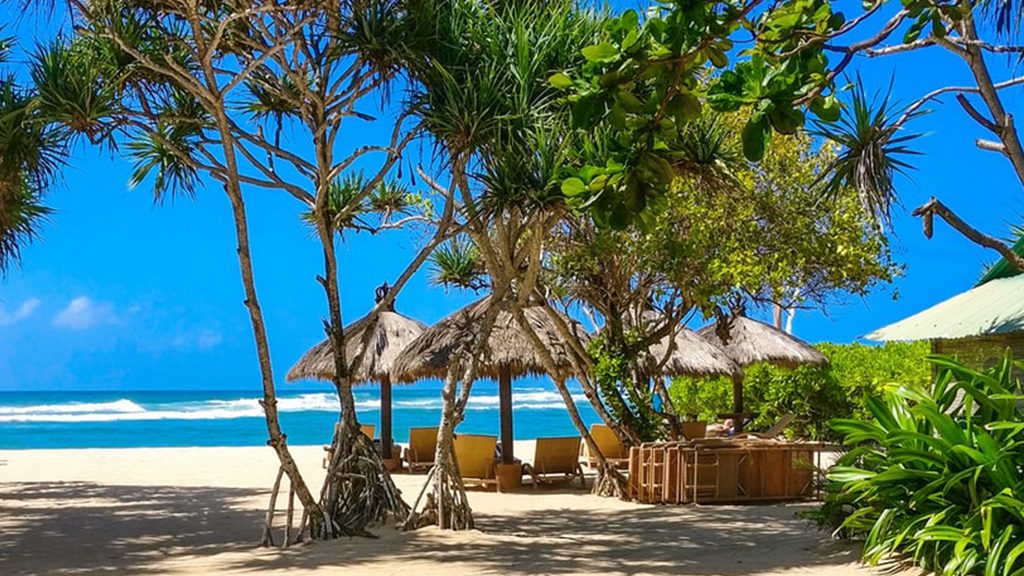 Jimbaran Beach
From Jimbaran Beach in the north-west to Pandawa towards its southern end and Nusa Dua up along the eastern side, The Bukit Peninsula is a treasure trove of silver sand beaches. Jimbaran Beach is a great expanse, right at the mouth of the peninsula. It is perfect for delicious seafood dinners and photo ops with local fishing boats in the background.
Pick one of our spectacular clifftop havens for your next vacation at The Bukit and enjoy special discounts and offers. The spellbinding ocean views are an added bonus.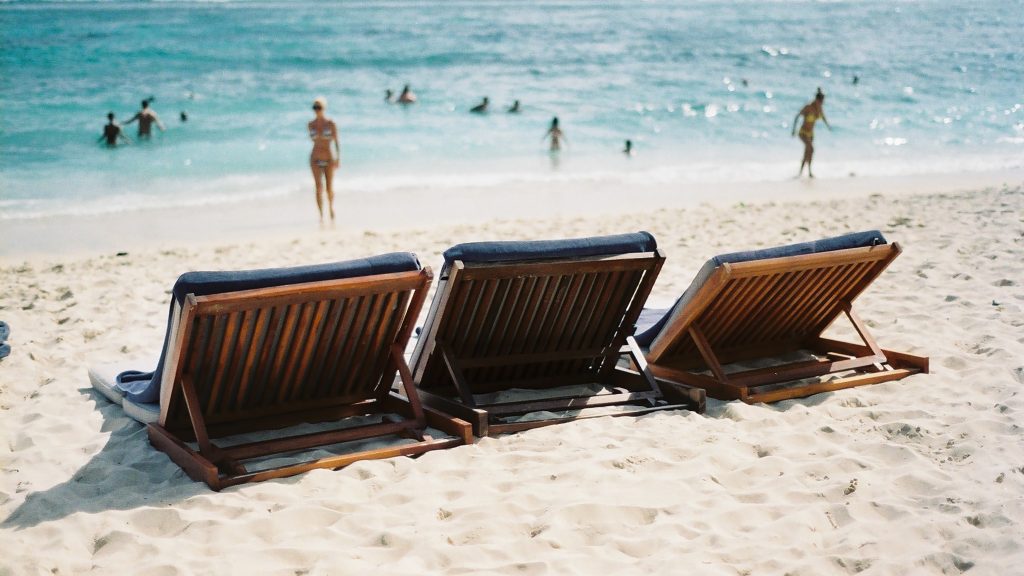 Pandawa Beach, The Bukit
Pandawa Beach is every bit as magical as its neighbour Nusa Dua. Thankfully, despite its pristine white sand, it still manages to remain under the radar and off the beaten track, with far fewer tourists than the beaches further north.
Visit Pandawa Beach when you stay at our villas at The Bukit. The Elite Concierge can arrange for car transfers, should you require them.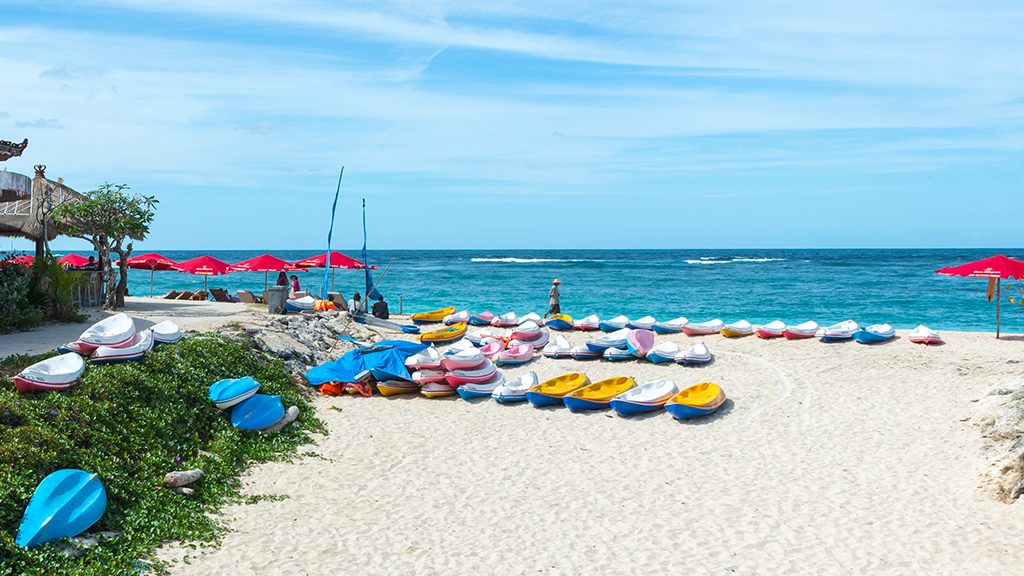 Padangbai
A well-kept secret only spoken about in hushed tones, the fishing town of Padangbai hides a gorgeous beach. Located on the east coast of Bali, north of Sanur, Padangbai is the port for public ferries going to Lombok or Gili Islands. What many do not know, is that on the right side of Padangbai lies a Blue Lagoon, with bright white sand and water bordered by a reef, rendering it an amazing spot for snorkeling. Word has it, that this is also the best place in Bali to pick up inexpensive pearls.
To the left of the town, you will find another gem – the quintessential deserted beach. It is like those fruits of labour that you have to earn, and which are not just given to you on a platter. You climb a gravelly hill, and walk through an easy jungle path to circle the top and go down the other side. And just like that, you emerge onto a white sandy bay that befits a film set. Silvery fine sand, crystal clear blue waters and lovely local warungs (shacks) selling basic local snacks. An idyllic spot that not many know about. Stay at one of our lovely villas in Candidasa, itself a black sand beach, and come find this little hidden nook, less than 20 minutes away.
Shh…you didn't hear it from us.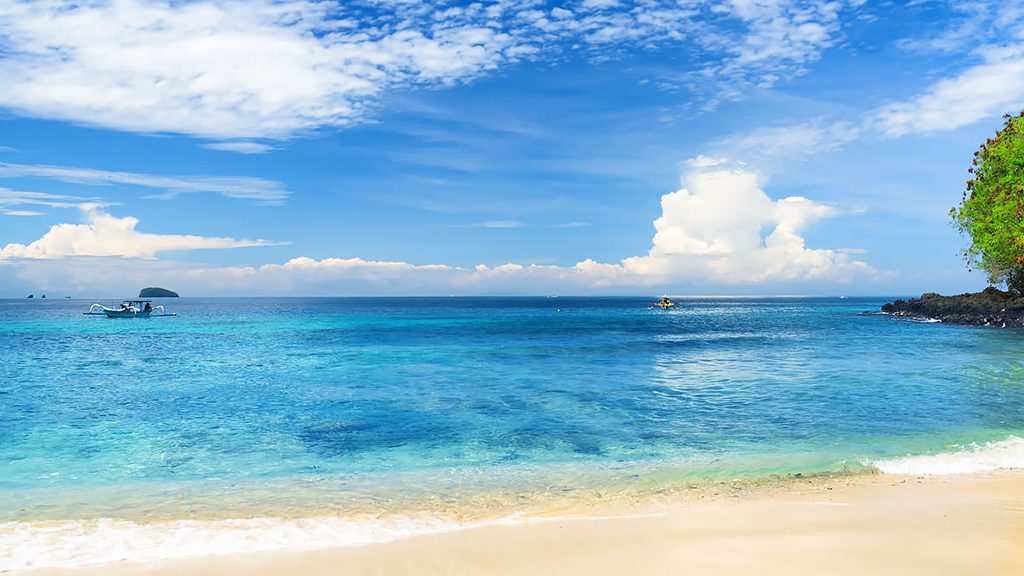 Seminyak/Canggu
Though technically the beach is more camel-coloured than pure white, as one of the most famous beaches on the island, it deserves a mention in this list. This is also 'party capital', with beach clubs, restaurants and bars littered all along. This long stretch of sand runs from Kuta, all the way to Canggu on the south-west coast of Bali. The best beginner waves can be found at the Kuta end, which is also more sandy, with reefs, darker sand and more challenging waves up at the Canggu side.
Choose from a range of elite havens found along this much-loved coastline. From trendy and hip Canggu to stylish and vibrant Seminyak, find a holiday home perfect for you and your group. Whether you want to roll out of bed, into the nearest beach club, or prefer a quiet haven to retreat to after a day with the waves, there's something for everyone.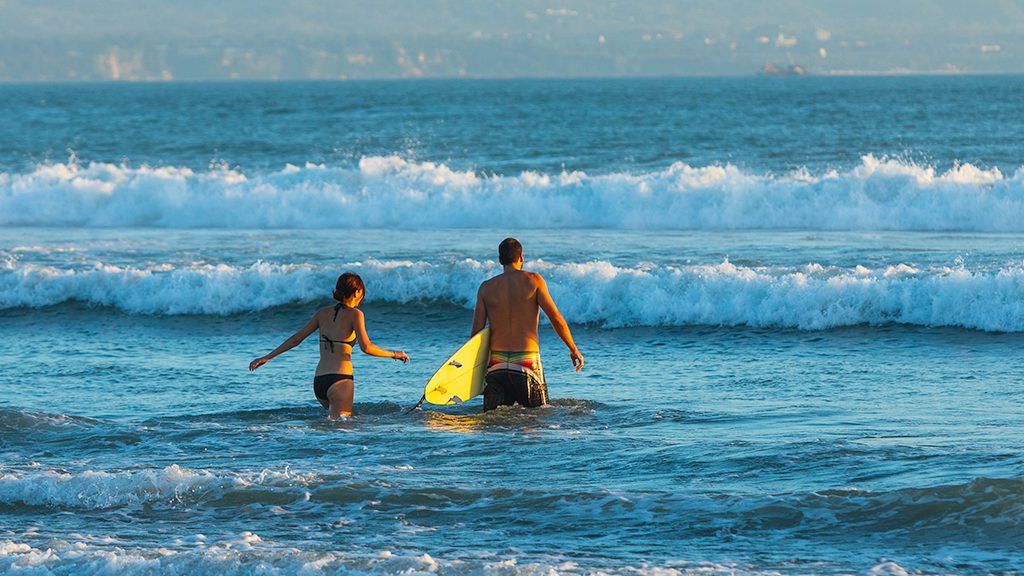 Experience sand on your doorstep, salt in your hair and majestic sunsets. Come over to Bali to enjoy the ultimate barefoot luxury.